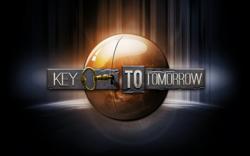 Burlington, NC (PRWEB) December 31, 2012
Bestselling author and speaker Andy Andrews will deliver the keynote address for National Agents Alliance at its National Convention on Feb. 2, 2013 in Raleigh, N.C., President and CEO Andy Albright announced today.
Andrews, the author of numerous books, has spoken at the request of four different U.S. Presidents. His books, How Do You Kill 11 Million People?, The Noticer and The Traveler's Gift all reached the New York Times' bestseller list. Andrews was dubbed a "modern-day Will Rogers" by a New York Times writer and was called one of the most influential people in America. It is estimated that a copy of a book by Andrews is sold every minute somewhere in the world.
NAA's "Key To Tomorrow" National Convention will take place Jan. 31-Feb. 3 at the Raleigh Convention Center. For more information on attending the event, please visit http://www.KeyToTomorrow.com.
Andrews will join an ever-growing list of high-profile speakers at National Agents Alliance events. Past speakers include: John C. Maxwell, Brian Tracy, Lou Holtz, Jon Gordon, Chris Gardner and Jack McKeon. Albright said having quality speakers at his company's national events was an important part of helping people grow personally and in their career.
"We are excited to have Andy coming to speak at our event in Raleigh," Albright said. "He's going to add value to what already promised to be a great three days for our team. My wife and I have heard him speak at various times over the years and we've never left disappointed with his message. We can't wait to have him at our national convention."
Andrews, who resides with his wife Polly and their two sons – Austin and Adam – in Orange Beach, Ala., said he will deliver a message of
"We're going to have a good time and I look forward to being at the convention," Andrews said of his upcoming engagement with The Alliance. "We're going to empower people and help them understand how they can connect with the vehicle that they have to maximize their potential in the marketplace, and to make some great things happen for them."
Andrews became well known for his 2002 bestselling book, The Traveler's Gift. He has written more than 20 books and has sold nearly 4 million copies worldwide. His books have been translated into more than 20 languages. He regularly addresses corporations, organizations, athletic teams and branches of the U.S. military. He has appeared on The Fox News Channel, Good Morning America, MSNBC and CNBC.
Prior to being known as an author, Andrews toured the country as a comedian, opening for acts such as Kenny Rogers and Joan Rivers. As his popularity grew, Andrews started speaking on more serious topics and evolved into a professional speaker. His clients have included Microsoft, Honda, Ford and AT&T. He has also worked with MLB's Atlanta Braves and the LPGA Tour.
Andrews is an alumnus of Auburn University.
ABOUT NATIONAL AGENTS ALLIANCE
National Agents Alliance is an innovative lead generation and marketing organization that sells life insurance, annuities, and other financial services products through more than 7,000 active independent sales representatives in 50 states. Focused on serving middle-income families, National Agents Alliance is the No. 1 United States provider of mortgage protection insurance and offers a broad array of other affordable products from highly regarded companies such as Mutual of Omaha, Foresters, ING, etc. Since its inception in 2002, National Agents Alliance has helped more than 950,000 families successfully apply for more than $99 billion in life insurance coverage since 2002.