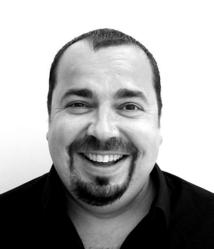 All actors crave a challenge, and this is a challenge for me. My character, Edward, is an angry man. Playing that role means I have to look at my own anger and explore parts of my psyche that are out of my comfort zone. That can be both frightening and exhilarating
(PRWeb UK) July 29, 2009
41-year-old actor and writer Andy Pandini is returning to the Edinburgh Festival Fringe this year in a moving and shocking play about teenage suicide.
"Turn The Blue Light Down", staged by the critically acclaimed About Turn Theatre Company, has its world premiere at this year's Edinburgh Fringe, and is based on the true story of a young man's turbulent relationship with his father, which eventually leads to his suicide.
Pandini is better known for comedy roles, having appeared at the Fringe before as both a stand-up comedian and in Brian Fillis' 2003 dark comedy "Non-Scene". He says his decision to play drama was easy: "All actors crave a challenge, and this is a challenge for me. My character, Edward, is an angry man. Playing that role means I have to look at my own anger and explore parts of my psyche that are out of my comfort zone. That can be both frightening and exhilarating".
This isn't the first suicide-themed play Pandini has worked on this year. Coincidentally, July 2009 saw a performed reading of his new play at the historic Rose Theatre on Bankside, London. "The Mass Suicide Club" tells the story of a group of people who meet weekly to plan their deaths. It is based on Pandini's own experience with depression.
Pandini says, "I wrote it because I think depression is a major issue at the moment, and I think it's getting worse. I wanted to ask questions about why people are so unhappy. Over 5,000 people in the UK kill themselves each year. That's a lot of people who see no future. Too many. I want people to know there is hope".
He was diagnosed with depression in 1997, but believes he had been suffering for a few years before that. While he plans to stage "The Mass Suicide Club" on the London Fringe in 2010, first comes Edinburgh and the role of the angry and abusive Edward Lewis.
"This man treats his family appallingly, is self-centred and abusive. All his son needs is love, and Edward can't even say the word", Pandini said.
"Turn The Blue Light Down" plays at the Royal College of Surgeons (Venue 53), Nicholson Street, Edinburgh from 17-29 August at 2:10 pm. The cast is Andy Pandini, Kaye Conway and George Weightman. It is directed by Michele Flatto, and written by Jovita Caygill.
About Andy Pandini
Andy Pandini trained at Redroofs Theatre School, and has appeared in theatre, film and TV. He worked as a Samaritan volunteer between 1992 and 1993 and again in 1998.
For more information, please see http://www.AndyPandini.com, or contact him at 07811 400382. He is available for interviews and more than willing to discuss depression-related issues.
###