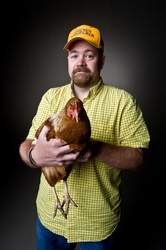 Being named a spokesperson for the USDA/APHIS Biosecurity For Birds program is going to be a wonderful opportunity. I look forward to educating chicken keepers around the country about how to maintain happy and healthy flocks
Florham Park, NJ (Vocus) May 4, 2010
Andy Schneider, better known as "The Chicken Whisperer," will be a spokesperson for a national public awareness campaign focusing on keeping backyard poultry disease free.
The campaign is being conducted by the U.S. Department of Agriculture's Animal and Plant Health Inspection Services (APHIS).
Schneider, a radio personality and magazine contributor based out of Atlanta, GA, has become a leading expert in the fast-growing backyard poultry movement. The APHIS Biosecurity For Birds outreach campaign is geared toward educating the growing population of backyard poultry owners about preventing infectious poultry diseases such as avian influenza (bird flu).
The campaign teaches bird owners how to prevent diseases, what signs to look for and how to respond if they suspect their flocks are ill.
Biosecurity For Birds began in 2004 as an educational program in response to the outbreak of the deadly Exotic Newcastle Disease, which killed four million birds in California and other western states in 2002-2003. Since then, Biosecurity For Birds has expanded to focus on other diseases, such as avian influenza or bird flu.
Backyard poultry has grown increasingly popular in the U.S. in recent years as more Americans seek fresh food, locally. Schneider has helped countless numbers of people start their own backyard flocks. He is the founder of the Atlanta Backyard Poultry Meetup group, which has grown to over 1,000 members. He is also a Purina Poultry Ambassador and conducts poultry owner workshops nationwide.
"Being named a spokesperson for the USDA/APHIS Biosecurity For Birds program is going to be a wonderful opportunity," said Schneider. "I look forward to educating chicken keepers around the country about how to maintain happy and healthy flocks."
Schneider is a contributor to Mother Earth News Magazine, Grit Magazine and Farmers Almanac. He has also been featured on CNN, HLN, CBS, NBC, NPR, and in Time Magazine, The Economist, USA Today, Atlanta Journal-Constitution, New Life Journal and many other publications. He is the host of Backyard Poultry with the Chicken Whisperer radio show on http://www.chickenwhisperer.net .
For more information about Biosecurity For Birds, please visit the Biosecurity For Birds website, http://healthybirds.aphis.usda.gov
###