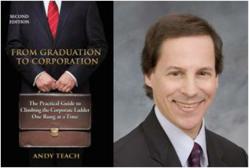 "While most recent graduates have the classroom education they need to prepare for their career, they are often unprepared for the job search process and what comes once they join the workforce."
(PRWEB) April 25, 2012
The 2012 graduation season is upon us, which means companies are being flooded with the resumes of recent college graduates (The Millennials), hoping to land their dream job fresh out of school. The problem is, that while most recent graduates have the classroom education they need to prepare for their career, they are often unprepared for the job search process and what comes once they join the workforce.
"College graduates need to acquire a new mindset that will prepare them to not only enter the workforce, but to excel in it," according to Andy Teach (http://www.andyteach.com), a 30-year corporate veteran and author of "From Graduation to Corporation: The Practical Guide to Climbing the Corporate Ladder One Rung at at Time." (amazon link) (barnesandnoble.com link)
"Looking for a full-time job IS a full-time job and recent graduates should treat it as such. Once that job is found, the next challenge is making the transition from student life to corporate culture. How quickly recent graduates can transition into this new world will impact their career success."
Teach's book is a comprehensive guide to success in the workplace, specifically tailored to college students and recent graduates, and has been utilized as a supplemental college textbook. However, it is a guide for recent high school graduates as well. "From Graduation To Corporation" is listed in Yahoo! Voices as one of the "Top Ten Books for High School Graduation Gifts-Books the Graduate Will Actually USE." "The guidebook that tells the 'unwritten' rules to achieving a successful career in a step-by-step method, this book also reminds us that nothing comes without effort and patience."
Teach uses personal stories from his experience climbing the corporate ladder to prepare recent graduates. He covers such topics as good vs. bad résumés, job search websites, job interviewing, dealing with difficult bosses and co-workers, social and professional networking websites, dress codes, staying organized, office romance, networking, standing up to the boss, how to ask for promotions and raises, and how to overcome the generation gap in the workplace. He lists 73 "Corporate Commandments," including: be an initiator, accept constructive criticism, embrace change, maintain a positive attitude and a sense of humor, willingly work overtime, return phone calls and e-mails promptly, and remember that one of your main jobs is to make the boss's job easier.
"In recent years, I noticed how some Millennials had a different attitude toward work that resulted in generational conflicts with their supervisors, and I wanted to write a book that would help them manage the generation gap better as well as help their bosses manage them better," Teach explains.
Teach's book has received critical acclaim from book reviewers, media and business professionals, and college students/professors:
"I have coached thousands of people on building their careers and I heartily recommend this book to anyone graduating from college or starting out in a new profession. A must read for grads!"-Libby Gill, Executive Coach and Author of YOU UNSTUCK
"I recommend this book as a 'must read' for college graduates as well as those who have been climbing the rungs of the ladder to success but not yet made it to the top."-book reviewer Bettie Corbin Tucker of bookreviewers.org
A Stanford University senior says, "Andy Teach's book provides deep insight into the inner workings of office life. Filled with humor and engaging anecdotes, this book provides a practical guide for any college student nervous about entering the corporate world. I would highly recommend this book as a resource to students who want to succeed in their future careers."
A Merrill Lynch Financial Advisor declares: "Following the advice in this book at the start of your career will give you a 'leg up' on your competition and co-workers."
Teach says: "In today's tough economic climate, two of the most important things for young people are obtaining a job and keeping a job. Finding ways to avoid conflict with bosses and older co-workers is key to staying employed when the economy forces bosses to lay someone off."
From Graduation to Corporation: ISBN-13: 978-1438930633
About Author Andy Teach
Teach graduated from Rutgers College with B.A. degrees in Business Administration and Human Communications. He worked for two New York City advertising agencies and then worked at a major Hollywood studio in the research department for over 20 years, earning six promotions: from research clerk to Vice-President of Network & Cable Research.
Teach has appeared as a guest and commentator on several radio programs and was recently quoted in two Forbes articles. He has lectured at over 50 universities and has given presentations to companies such as American Express, the CPA/Law Society of Ventura County, and the National Society of Hispanic MBAs. He is a member of the Academy of Television Arts & Sciences (ATAS), the National Association of Colleges and Employers (NACE), and the National Speakers Association (NSA).