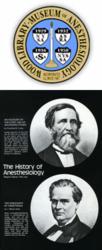 Our digitization efforts support our WLM mission by preserving our collections and providing worldwide access to those who would not be able to visit us otherwise.
Park Ridge, Illinois (PRWEB) July 09, 2012
Wood Library-Museum of Anesthesiology (WLM) is completing its most ambitious digitization project to date. The Museum remains the preeminent Internet source on anesthesiology's history. With its long established physical location and extensive collection, WLM expands online availability of their rare book collections, living history videos, museum pieces, and archives to the worldwide community.
"Our digitization efforts support our WLM mission by preserving our collections and providing worldwide access to those who would not be able to visit us otherwise," said WLM Librarian Karen Bieterman. "We've recently begun to add free digital copies of our WLM publications on our web site."
Notably, free for download PDF e-books and living history videos have been added.
Originally published by WLM in 1998, The Genesis Of Surgical Anesthesia, by Dr. Norman Bergman M.D., provides an expansive and complete survey of the history of anesthesiology from antiquity. Before 1846, when anesthesia was first demonstrated in surgery, the march toward modern anesthesia depended on prior developments in anatomy, chemistry, and physiology. An anesthesiologist himself, the author uses a modern perspective to explain how ineffective anesthetic-like substances ultimately lead to practical applications.
Also added to the online literature is Volume One of Careers in Anesthesiology: Autobiographical Memoirs Series (1997 to 2008) and parts one through five of the History of Anesthesiology Reprint Series.
Careers in Anesthesiology is a primary source for historians. Edited by B. Raymond Fink, this volume is an anthology of inspiring autobiographical memoirs of the field's leaders. A newer generation will draw inspiration and gain an appreciation of this rich heritage.
Likewise, The History of Anesthesiology Reprint Series has authoritative topical articles illustrating specific historical themes.
Continuing the tradition of maintaining film and video archives, the John W. Pender Living History Series has expanded its online presence. Visitors can instantly view titles of outstanding anesthesiologists speaking about their lives and profession. WLM proudly features Dr. Alon Winnie as a "giant in the field of regional anesthesia."
For Bieterman the series, beginning in the 1960s, "tells the story" of anesthesiology's recent half-century. Central is the history of the American Society of Anesthesiologists (ASA). "Many changes have occurred over those years. The collection is quite the treasure trove of biographical and historical information," she said.
"History helps us to better understand how the medical specialty of anesthesiology came to be," says Bieterman. "By understanding its foundation, developments, and advances throughout the years, we have a better understanding and appreciation of where we are today — including how safe the specialty has become. We're delighted to be able to share and promote the value of this unique heritage."
Located within the ASA headquarters, the medical library has over 14,000 books, biographies, journals, newsletters, digital photos and images. The multimedia collection includes extensive audio, film and video content providing historical insights of anesthesiology's history. The museum has hundreds of items on exhibit with equipment, devices, awards, and memorabilia covering every era.
"The members of the ASA benefit the most as we provide free contemporary and historical research to them," concludes Bieterman. "Others benefit as well, including historians, students, researchers and those with an interest in the specialty of anesthesiology and its rich history."