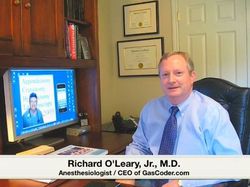 I was thinking if my iPhone could save thousands of songs, email addresses and phone numbers, there had to be a way for it to store and search for anesthesia billing codes
San Jose, CA (PRWEB) July 8, 2009
A new iPhone application specifically for anesthesiologists and other medical professionals who work in the anesthesia field is now out on the market. GasCoder, http://www.gascoder.com, developed by Silicon Valley anesthesiologist Richard O'Leary, M.D. is an application for both the Apple iPhoneTM and iPod touch®, that assists anesthesia personnel with looking up CPT® (Current Procedural Terminology) and CPT anesthesia billing codes for their procedures. GasCoder enables the user to quickly and easily look up these codes, which Medicare, Medicaid, and many other insurance companies require in order to pay the anesthesia provider.
GasCoder creator, Dr. O'Leary, got the idea for the application in early 2008 while using his iPhoneTM. "I was thinking if my iPhone could save thousands of songs, email addresses and phone numbers, there had to be a way for it to store and search for anesthesia billing codes," said Dr. O'Leary.
Every surgical procedure has two code numbers associated with it. For example, a bunion surgery has a CPT code of 28293 (correction of bunion) and the CPT anesthesia code of 00840 (anesthesia for open procedure on…the foot). There are approximately 7000 CPT codes. Each year, approximately 300-500 of the codes are modified to keep up with advances in medicine and each year the American Medical Association (AMA ) publishes the CPT database which lists all of the procedures. Similarly, the American Society of Anesthesiologists (ASA) each year puts out the Crosswalk® database which links each CPT code to the appropriate CPT anesthesia code and base unit value. A base unit value is a number that reflects the complexity of the procedure and is also required for billing purposes.
GasCoder combines both the CPT and Crosswalk databases into a searchable file that can be accessed on the iPhone or iPod touch. The user is able to enter search words from the procedure using the virtual keyboard. GasCoder searches the entire CPT database and presents a list of all matching entries, with the matching words (or parts of words) highlighted for easier review. The user next selects the desired listing which best describes the surgical procedure by touching the device's screen. GasCoder then accesses the 2009 Crosswalk database to retrieve and display the correct CPT and CPT Anesthesia codes, as well as their descriptions and the base unit value for the procedure. GasCoder also includes many commonly used medical abbreviations. For instance, the user need only enter "ORIF" instead of typing "Open Reduction and Internal Fixation," making finding the correct codes quicker and easier. A list of the abbreviations is included on the information page of the program.
GasCoder went on sale in March, 2009, on the Apple App Store. The program retails for $149. Rebates are available for group purchases. GasCoder will be shown to the anesthesia community at the Annual American Society of Anesthesiologists meeting in New Orleans on October 17-21, 2009. For more information, please visit http://www.gascoder.com.
###