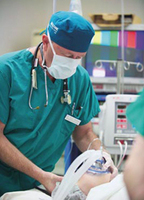 The Leading Physicians of the World is now a true one stop reference for patients and healthcare institutions looking for top doctors in their area
New York, NY (PRWEB) June 26, 2010
As numerous changes in healthcare are underway, consumers and institutions are being more proactive in making sure they receive the best care possible. Patients are doing their research online and hospitals are performing due diligence on every physician they choose to hire. In a world of technology and information, people want to know everything about their procedure, from the surgeon and hospital, to the anesthesiologist.
Editor in Chief of The Leading Physicians of the World, Christine Steinberg, speaks of their recent alliance with The International Association of Anesthesiologists. "We are excited about our new partnership with the IAA. We have had numerous requests from hospitals, practices, and other physicians, requesting information on anesthesiologists in their area. Patients want to know whose hands they are in, and doctors and institutions want to align themselves with the best. By reading the book, or using one of our numerous search engines, this information is easily accessible, and makes people more comfortable for their upcoming procedure.
The Leading Physicians of the World has gained tremendous popularity over the last couple of years. Christine Steinberg attributes this to their dual pronged approach towards success. "As an organization we have always had a two fold mission: One, to pay tribute to those physicians who have surpassed others in not only their knowledge and expertise, but also in their level of compassion and kindness. Two, to provide information that gives people access to these physicians, and the chance to receive the best care possible. People deserve a choice when it comes to their health."
With top anesthesiologists recently added to the directory, . Those selected physicians full professional biographies will be featured in the upcoming edition of The Leading Physicians of the World. Consumers will also be able to view their contact information, services, and insurance coverage online, helping them make the perfect choice.
Putting patients in the right hands is what it is all about. The 2010 edition of The Leading Physicians of the World is on its way, so make sure to keep a copy handy. Patients can also visit Find a Top Doc.com to view and search members from all specialties. The website is searchable by multiple fields, and will populate with the closest Leading Physicians within the provided zip code. People never know when they will need to make quick decision about their health, so always be prepared.
About The Leading Physicians of the World
Published yearly, and distributed exclusively to members, physicians and healthcare institutions, The Leading Physicians of the World selects the top 1%-2% of each specialty to be featured in their yearly publication.
Representing over 100 different medical specialties in all major markets across the globe The Leading Physicians of the World, allows consumers to browse the biographies of the most distinguished and desired doctors from every field.
###