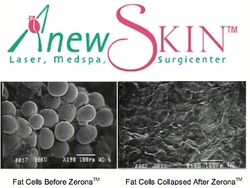 I can't believe it worked for me so quickly and painlessly without any other changes in my diet and exercise routine.
Sacramento, CA (PRWEB) October 27, 2009
Local board certified dermatologist and laser specialist Timothy J. Rosio, M.D. announces the arrival of AnewSkin's Zerona™, the only non-invasive, body slimming, low-level laser treatment, to its practice, making him one of first physicians to offer the Zerona™ in Northern California. During clinical trials, the Zerona ™ has been scientifically proven to result in an average of 3.6 inches lost from patients' waist, hips and thighs. Unlike invasive weight loss surgery, Zerona™ is a revolutionary method that is applied externally without the dangers associated with surgery or other non-invasive devices which rely on heating the tissue. The new technology has been proven to reduce inches from target areas such as the tummy, back, hips, thighs, buttocks, chin, neck and arms; contour and reshape the body; and tighten and tone loose skin.
Dr. Rosio's introduction of Zerona™ will provide those seeking a safe alternative to surgery with a body contouring program that causes no bruising, scarring or discomfort. The simple procedure consists of three 40-minute treatments per week over a two-week period.
Dr. Rosio says, "Our patients have been pleased with the results from Zerona™ treatments and because there are no needles, no incisions and no recovery time involved, they can continue with their daily activities immediately after each treatment. Zerona™ is an excellent option for patients who do not want to experience the downtime, health risks or pain associated with more invasive procedures for body contouring."
One patient, a professional business woman, said "I can't believe it worked for me so quickly and painlessly without any other changes in my diet and exercise routine."
Zerona™ uses a patented and clinically proven low-level laser technology developed by Erchonia, the global leader in low-level laser health care applications. The results were proven effective through a double-blind, randomized, multi-site, and placebo-controlled study.
Clinical studies demonstrated that the Zerona™ low-level laser targets adipose tissue (fat storing cells) and stimulates the fat cell to liquefy the fat within the cell. A small pore is then naturally created in the protective membrane of the fat cell enabling the fatty matter to seep out of the cell until absorbed by the lymphatic system. The excess fat is then passed out of the body during its normal course of detoxification which results in millions of fat cells becoming smaller and inches are reduced.
"Zerona™ is the leading technology for body contouring without surgery," says Steve Shanks, Vice President at Erchonia, the creator and manufacturer of the device. "We are pleased to bring such a superior product to an internationally renowned Dermatologist and Cosmetic Surgeon such as Dr. Rosio who can now offer Zerona™ as a perfect solution for those who want to jump start or maintain a healthier and slimmer lifestyle in Sacramento."
About Dr. Rosio
Dr. Timothy Rosio is known internationally for his pioneering work, teaching, and publications in Dermatology, Lasers, Cosmetic and DermaSurgery. Dr. Rosio is a Stanford trained, Board Certified Dermatologist who truly cares about his patients and provides personalized leading edge treatment based on the latest advances in Medicine, Health and Fitness. Dr. Rosio has written textbook chapters and trained physicians throughout the world on laser and reconstructive surgery procedures. He performs charitable surgery on children, skin cancer screenings pro bono for the public, and chairs national committees to help those in need.
###