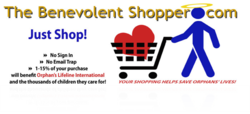 "We are providing alternative ways for charitable individuals to give as we understand money is tight this Holiday Season"
Kalispell, MT (PRWEB) November 25, 2011
With the economy down, most families are struggling to provide Christmas for their families, let alone give to Charities. Christmas is the largest benevolent giving time of the year and charities count on the Holiday Season to provide their annual budgets for the following year. TheBenevolentShopper.com provides a way for shoppers to purchase gifts AND be benevolent with no extra cash out of pocket.
The owners of TheBenevolentShopper.com are also the Founders of Orphan's Lifeline of Hope International who is responsible for the daily needs of 20,000 children in 9 countries. These children depend on this 11 year old non profit to provide everything for them. Food, Education, Medicine, Clothes and Shelter. So far the organization is maintaining donors but the Founders are preparing for 2012 by offering creative ways to keep the charities budget up.
The Founders of Orphan's Lifeline of Hope International, Dave Board, CEO and Greg Timmons, COO have started two sister companies that will provide finances to Orphan's Lifeline by shopping.
Hope Art Greetings & Gifts, features Greeting Cards with artwork designed by the orphan children. Having been in the printing business for 20+ years, Mr. Board and Mr. Timmons saw an opportunity to raise funds through a product that everyone purchases year around. A % of the greeting card sales is donated to Orphan's Lifeline of Hope International each quarter.
TheBenevolentShopper.com is an online affiliate program featuring most popular companies such as; Target, Sears, Cabellas, Kmart & Walgreens, just to name a few. TheBenevolentShopper.com receives a commission for all sales completed at these top rated department stores and again donates proceeds to Orphan's Lifeline of Hope International.
For those folks who normally give to charity but have fallen on hard times due to job loss or other financial hardship, they can still be benevolent by purchasing their normal holiday items and stay within their 2011 Holiday budget.
###