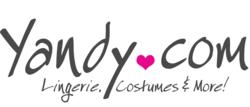 PHOENIX, Ariz. (PRWEB) October 05, 2012
A clash as old as time, angels and devils battle yet again this 2012 Halloween costume season at Yandy.com to appeal to the pocketbooks of shoppers. Yandy.com, online retailer of sexy costumes and lingerie, is always sure to stock up on the popular sexy angel costumes and sexy devil costumes for the Halloween season and this year is no exception.
At Yandy, angels and devils have a tendency to draw attention from shoppers not only for the insulation of the wearer being either "good" or "evil" but also because of the appeal of the flattering cuts and dramatic accessories usually associated to the costumes. Costumes that are already proving to be front runners at Yandy are the Darling Devil costume, featuring a black and red mini dress with a stay-up collar, pitchfork and horn headpiece, and the Knockin' on Heavens Door Angel costume, featuring a white ruched mini dress with white feather wings, star head wreath and a silver star wand. Another costume that is perfect for the customer that can not choose between naughty and nice is the Fallen Angel costume featuring a black dress, black wings and black angel halo.
Another trend Yandy often encounters amongst shoppers is that friends will go as a group of sexy angels, sexy devils or a mixture of both to costume parties.
Whether shoppers are naughty or nice, Yandy.com has both ends of the spectrum covered in the sexy angel costumes and sexy devil costumes categories this Halloween. Not only are there so many options to choose from in one convenient place, but every Yandy shopper also receives free, flat rate shipping on orders over $70 and a free panty with every order.
About Yandy.com
E-commerce is on the rise and Yandy.com is one of the largest online retailers of lingerie, sexy Halloween costumes, swimwear and clothing on the web. Founded in 2003, Yandy boasts more than 6,500 products always in stock at easily affordable prices. Yandy ensures that every customer will receive a safe, secure and private online shopping experience and is backed by COMODO online security and Google Checkout. Yandy is dedicated to customer service and only sells what is in stock which allows for quick, same day shipping. Offering the highest quality products at the most affordable prices in the market, Yandy has become a leader in e-commerce. Yandy works closely with all of the manufacturers they distribute for and hand select all of the items on the Web site to ensure customers have the largest and most diverse collection to choose from. In addition, the customer service team at Yandy is unrivaled. With attentive and helpful operators, should a question or problem arise, the customer service team at Yandy is always willing and able to assist. At Yandy, every customer can Be Sexy.
###