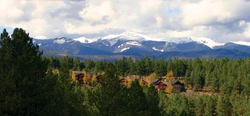 "This is a unique and limited opportunity for people to enjoy the many membership benefits of a Platinum member and also own land in Angel Fire
Angel Fire, New Mexico (Vocus) November 9, 2010
Angel Fire Resort today announced the creation of an unprecedented land sales incentive which would make available 100 mountain-top lots, lot sizes ranging from three-quarter to one acre, on the Angel Fire Resort ski mountain. The cost of these lots, many just steps away from the top of the Chile Express chairlift (elevation 10,600'), is just $999 plus an Angel Fire Resort Platinum Membership.
"This is a unique and limited opportunity for people to enjoy the many membership benefits of a Platinum member and also own land in Angel Fire," said Gary Krueger, associate broker for Angel Fire Resort Real Estate. "You would be hard pressed to find any place else in the Rocky Mountains, or for that matter in the United States, where you can own a piece of land in a ski and golf resort, with unlimited access to amenities, for a comparable price. These lots represent a bragging rights commitment to outdoor fun and recreation for the entire family."
Platinum Membership is an exclusive membership offering unlimited skiing and golf, fitness center and swimming pool access at the new Angel Fire Golf & Country Club, 14 day advance tee-times, free RV Park usage, stable access, preferred ski and country club parking, locker storage, fishing at Monte Verde Lake and 20% off all resort food and beverage and retail purchases. The Platinum Membership applies to all immediate family members under the age of 23. The annual Platinum Membership dues per family are currently $2,350.
The lots are located in Angel Fire "Chalet 3 Subdivision". This is an undeveloped subdivision area located at the top of the ski mountain with no utilities or roads. The developer is not responsible for installing utility infrastructure to this subdivision. The lots are primarily being offer to enable the land owner the unique opportunities of the Platinum Membership at Angel Fire Resort. Obtain the Property Report required by Federal law and read it before signing anything. No Federal agency has judged the merits or value, if any, of this property.
Interested parties may contact Gary Krueger, Associate Broker for Angel Fire Resort Real Estate at 800-906-7001 or 530-640-1851 or garykr(at)gmail(dot)com or visit the website at http://www.angelfireresortrealestate.com.
About Angel Fire Resort
Angel Fire Resort is a top year-round mountain resort destination in New Mexico. Situated at over 8,600' elevation in the Southern Rocky Mountains, Angel Fire strives to offer the best value and choice for family outdoor recreation activities to its members, guests and visitors--including skiing, snowboarding, golf, mountain biking, tennis, fishing, hiking and more. For additional information on Angel Fire Resort, resort membership, or opportunities for real estate investment in Angel Fire, please call 800-633-7463 or visit the resort's website at http://www.angelfireresort.com.
Media Contact
Christy Germscheid
Public Relations Director
Direct: 575-377-4424
cgermscheid(at)angelfireresort(dot)com
###