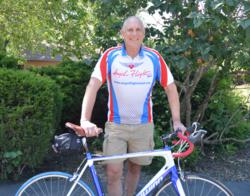 Knowing that every mile I pedal will assist Angel Flight West will do more than any tailwind or downhill stretch to help me on my way.
Manhattan Beach, CA (PRWEB) May 09, 2013
On May 12, Angel Flight West (AFW) volunteer pilot and board member, Charlie Finkel, a 62-year-old aviation attorney and private pilot, will embark on a "bucket list" bike ride from Manhattan Beach to Boston—approximately 3,400 miles—to raise funds and awareness for the nonprofit. Angel Flight West arranges free non-emergency air travel for children and adults with serious medical conditions and other compelling needs. Mr. Finkel has been flying such missions for two decades.
"Cycling has been my hobby and passion since childhood, so has flying. I have been very fortunate to have been able to engage in both. As a pilot, I have been able to pay back some of my blessings by twenty years of membership in Angel Flight West," Mr. Finkel said.
In the first few days following the announcement of his plans, Mr. Finkel garnered pledges exceeding $10,000. He hopes to complete this fund-raising effort by June 28.
"I have been very fortunate to be able to enjoy the physical ability, good health and financial security. Unfortunately, all too many suffer illnesses, disabilities and a lack of resources preventing them from obtaining all the help they need. Fortunately, Angel Flight West helps to overcome those hardships," Mr. Finkel said.
He has transported burned children to summer camps, and has flown missions for cancer patients, wounded soldiers and others with a wide variety of needs. He said, "I particularly associate with the burn victims, having spent two months of suffering in a burn ward myself, and then having to overcoming the hurdles of rehabilitation."
Mr. Finkel plans regular Facebook updates, thanks to a bike-mounted GPS that will show the route, elevation gains, miles, speeds and a satellite view of the daily route. He hopes to cover an average of 85 miles per day and said, "Knowing that every mile I pedal will assist Angel Flight West will do more than any tailwind or downhill stretch to help me on my way."
Angel Flight West's network includes 1,200 volunteer pilots throughout the 13 western states who donate their aircraft, piloting skills and all flying costs to help those in need receive vital treatment that might be otherwise inaccessible because of financial, medical or geographic limitations. AFW has been awarded a 4-Star rating by Charity Navigator and is aligned with other air care organizations throughout the United States. http://www.angelflightwest.org