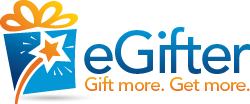 Our model is inherently viral and really at the cross section of the mega trends in social, mobile and big data...
Melville, NY (PRWEB) February 11, 2013
GroupGifting.com, the developers of the eGifter social gifting service, is pleased to announce that it has closed its initial angel financing round which was oversubscribed.
"GroupGifting.com is quickly becoming one of the most interesting tech startup stories on Long Island," said Mike Faltischek, Partner at the Long Island law firm Ruskin Moscou Faltischek, P.C. and the Long Island Angel Network (LIAN) President. "I am pleased that the Long Island Angel Network has been able to help the company reach its initial funding goals." Leading the round for the company was Bob Brill of Newlight Management who is also a Director of the LIAN and on the Board of GroupGifting.com.
GroupGifting.com has emerged as an early leader in the growing business of social gifting. The company's eGifter service, available on Apple iOS, Android and the web, enables consumers to purchase eGift cards from over 100 major brands and give them to their Facebook friends, inviting others to contribute, making it a group gift. Consumers can also purchase eGift cards for themselves. In addition to selling eGift cards to consumers, brands use the eGifter platform to attach special offers to the cards, leveraging the power of friend-to-friend marketing and the ability to target users of the system based on the age, gender and location of the recipient.
"Our model is inherently viral and really at the cross section of the mega trends in social, mobile and big data," said Tyler Roye CEO of GroupGifting.com. The industry growth projections are staggering. Digital gift card spending is expected to grow from $3B in 2013 to $12B by 2015, according to CEB Tower Group. Additionally, according to Forrester Research, US social commerce is projected to grow from $3B today to $14B by 2015, while mobile ecommerce is expected to grow at a 39% annual growth rate to 31B by 2016.
Brands have been struggling to find ways to get tangible results from their investments in social media. "We give brands a way to finally monetize social media, unlocking the potential of fans and customers, turning them into social brand advocates," added Roye. With more than 50,000 members already using eGifter, the company has big plans to accelerate its growth. "The more than 12 million friends of our members have more than 30,000 birthdays every day, giving us many opportunities to inject just the right gift at just the right time and grow our membership as a result," said Roye.
The four founders include Tyler Roye, CEO, Eric Manno, COO, Mark Manno CFO, and David Levinsky, CTO. Tyler and other co-founders were the leadership team that founded and grew Invision, a Long Island cloud hosting and web development company that was sold to mindSHIFT in 2007. That company subsequently was sold to Best Buy in 2011. Two other executives from the Invision team have also joined the new company, including Tracey Klein, as VP of Business Development and Bill Egan as VP of Marketing.
The company founders funded the business through the first 18 months of growth and decided it was time to bring in some outside support. "We realized that we would need to raise a few rounds of significant financing to fully realize the potential of this opportunity," said Roye. "With this in mind, the logical first step was to get the right people vested in the company with a focus on investors who could help connect us to strategic partners, major clients and other investors for future rounds." This angel deal brings the total fundraising for the company over the past few months to over $1million.
The company had significant contacts in the local tech community and leveraged these connections to drive the process. "We set out to create an angel dream-team, and focused on a list of key people from the local tech and tech investment community," said Roye. Andrew Hazen from AngelDough was an early investor. Bob Brill from Newlight Management, the VC that backed Invision, agreed to join the Board and lead the angel round. "I was very pleased to get involved in another venture with the successful Invision management team," said Brill. "The next step was to reach out to our friends in the community, starting with calls to Mike Faltischek from the Long Island Angel Network and Peter Goldsmith from LISTnet," said Roye.
"Angel financing was the perfect solution for us since we did not need a lot of money at this stage. What we really needed was the right team to help us position for larger financing in the future," said Roye. The team of investors also included Barry Rubenstein from Wheatley Partners, Steve Winick from Topspin Partners, David Calone from Jove Equity Partners, and several other tech and tech investment leaders from Long Island. "They have all put their collective muscle and minds behind the company. We really wound up with an even better dream-team than we could have imagined," said Roye.
There has been a lot of activity in recent months to develop a Long Island tech startup community. Initiatives from the Long Island Software & Technology Network (LISTnet), as well as commercial efforts such as LaunchPad LI, (opening today in Mineola), have created more opportunities and aligned more resources for Long Island startups. "There is a burgeoning startup ecosystem developing on the Island, and the LIAN is the center of gravity and the engine of growth," said Roye.
"The LIAN delivered results for the GroupGifting.com angel round, which was oversubscribed, and we are still in discussions with other investors who may participate in a second closing later this month," said Faltischek. "We anticipate a good flow of other qualified companies coming out of programs like LaunchPad LI and LISTnet's COMETS program. LIAN, and the entrepreneurs seeking its members' support, also benefit from close ties to regional innovation leaders including the New York State Center of Excellence in Wireless and Information Technology and the Advanced Energy Research and Technology Center, also a state Center of Excellence, at Stony Brook University, and Brookhaven National Laboratory.
eGifter has deals in place to sell more than 200 brands, but have limited those available in the app to about 100 select brands to date. They intend to add more brands in the coming months, with the goal of reaching more than 300 national brands by the end of the year. "We are now starting to bring on some regional and local brands who can add their offers to the system through our self-provisioning portal and target their offers to consumers in a set radius around their retail store," said Roye. "We are truly a more social alternative to daily deals, leveraging friend-to-friend referrals and putting brands at the center of a fun and social gifting experience."
The company is hiring and has posted several open positions on the eGifter site. The company also anticipates raising another round of financing later in 2013.
Retailers interested in learning how GroupGifting.com can help them accomplish their social and mobile commerce goals can visit http://www.groupgifting.com/retailers/.
About GroupGifting.com
GroupGifting.com develops innovative social and mobile technologies designed to revolutionize the act of gift giving, like their flagship app, eGifter. Our offerings create a fun and social experience for consumers while helping retailers unlock the viral potential of gift giving in social spaces. Founded in 2011 by a group of proven tech entrepreneurs, GroupGifting.com is based on Long Island NY. Visit eGifter at http://www.eGifter.com.
About the Long Island Angel Network (LIAN)
With strong ties to Long Island's technology industry, research, incubator, and "lean startup" communities, LIAN is the region's only publicly active organization of experienced individual investors who provide critical early stage capital for local startups. With its second 2013 deal currently in due diligence, and the next entrepreneur presentation meeting for investors scheduled for March 20, it is now considering new members.