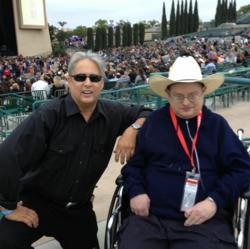 Lonnie, who lives with congenital heart issues, claims the medical care he has received thanks to free air transportation arranged by Angel Flight West has extended his life nearly a decade beyond doctors' expectations.
San Diego, CA (PRWEB) June 26, 2013
Angel Flight West (AFW) volunteer, Chief Orientation Pilot Martin Wymond, flew a routine mission on June 24, 2008, that irrevocably changed his life for the better. His passenger, Lonnie S., a developmentally challenged 36-year-old man with congenital heart (and other medical) issues, had undergone his third open heart surgery in early June and needed to get back home to San Diego.
As they were approaching Montgomery Field, Martin asked if Lonnie's ride knew where to pick him up, and Lonnie replied that he planned to take the bus. A stunned Martin inquired how long it would take and learned Lonnie would ride 3 buses for over 2 hours, walk the final quarter mile home to care for himself.
While Angel Flight pilots usually don't transport patients beyond the destination airport, Martin could not leave this post-operative man to fend for himself. A check-in call later that evening led to a grocery run which led to more "phone calls which led to lunches, pharmacy runs, frozen yogurt excursions and other outings," Martin said. As Lonnie's health improved, he returned to work at the Home Depot's garden department, the job he'd held for the previous twelve years. More Angel Flights—for follow-on care—and concerts ensued.
Although vastly different in many ways, the two have formed a close brotherly bond. "My entire family, fellow pilots, and business associates all know Lonnie—he's like family," said Martin. "Lonnie inspires and restores me to gratitude for the amazing gifts we receive in this life. His indomitable spirit, tenacity, humor and quick wit keep both of us laughing…even in troubling times. He meets his daily challenges head on. Nothing keeps him down for long."
Lonnie has an uncanny gift for winning concert tickets from his favorite San Diego country radio station, KSON. Lonnie is a devout country music fan and everyone at KSON knows him. Together, Martin and Lonnie have seen Glen Campbell, Dwight Yoakum, Winona Judd, Pat Green, Jason Aldean, and most recently, Tim McGraw.
Last summer, Lonnie became the first person in the Western U.S. to have a revolutionary transvenous heart valve replacement at UCLA Medical Center in Los Angeles. Martin was there with him for most of his 5-day stay. Such is their bond.
Lonnie has flown on over 100 missions to date. He currently has a mechanical heart valve, a bovine heart valve and a pacemaker to keep him going. During his next flight in August, Lonnie will be evaluated for a possible pacemaker replacement surgery.
On November 19, Lonnie will be 42. He credits the AFW staff, the many AFW pilots—who have generously flown him over the last several years—and his doctors for his longevity. He says, "You know, I beat the odds. My doctors said I would never live past 33. I think I've still got some time left." Martin agrees. http://www.angelflightwest.org