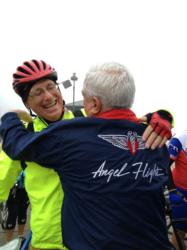 Boston, MA (PRWEB) June 28, 2013
On June 28, Angel Flight West (AFW) volunteer pilot and board member Charlie Finkel completed a "bucket list" bike ride from Manhattan Beach to Boston—nearly 3,400 miles—to raise funds and awareness for the nonprofit. Angel Flight West arranges free, non-emergency air travel for children and adults with serious medical conditions and other compelling needs. Mr. Finkel, a 62-year-old aviation attorney and private pilot, has been flying such missions for two decades.
"I have never ridden that far in one day or in the heat," Charlie said of his 117-mile, day-four ride into Wickenburg, Arizona where temperatures pushed 100 degrees. Charlie faced over 40,000 feet of altitude gain during the forty-eight-day trip, which traversed 15 states.
Alan Dias, AFW's executive director, says, "We have all been following Charlie's trip across the country and it has been inspirational. Not only is the ride a major personal accomplishment, but in doing it Charlie brought attention to Angel Flight West—and the Angel Flight organizations across the country. As a member of our board and a Command Pilot flying missions, he has committed time and resources to help those in need for many years. And now, through this ride, he's raised over $20,000. These funds will help get more people from where they are to where they need to be."
Along the way, Charlie dodged thunderstorms, enjoyed (or in some cases endured) the landscape, and occasionally, after a particularly strenuous day, rewarded himself with an ice cream sundae.
Charlie's trip concluded with a 17-mile ride to Revere Beach where he reunited with his wife, Linda. "What an incredible journey this has been!" he said. "The feeling of accomplishment is hard to beat." Charlie's tears flowed freely as he dipped his wheels into the Atlantic—in the rain, of course.
But the real reward, says Charlie, is "being able to pay back some of my blessings. Just as cycling has been my hobby and passion since childhood, so has flying, and I have been very fortunate to have been able to engage in both. The story of Angel Flight West is a fantastic one, and I hope that my pedal power and enthusiasm got our message out to the public at every stop along the way." http://www.angelflightwest.org