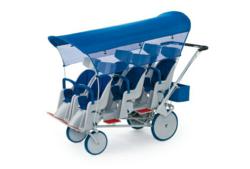 Tim Lynch, Director of Sales and Marketing for Angeles® said, "The new design provides a superior 360-degree turning radius and Vista-View 'stadium' seating to give every child an extraordinary view."
Pacific, Missouri (PRWEB) September 07, 2011
Turns are easier than ever and riders can see the world better, thanks to the modern design incorporating the latest features and meeting all safety standards customers expect from Angeles®. This stroller is the most sleek and modern six-passenger stroller on the market.
Among the cutting-edge features of The Angeles® Runabout® are easy-pivot swivel wheels for full-range maneuverability – it literally turns on a dime – even when the stroller is loaded with six children! Its sleek modern design, five-point safety harness system, commercial-grade parking brake and Vista-View Seating make the Angeles® Runabout® a cut above all the other strollers on the market.
The Angeles® Runabout® is currently distributed exclusively by Discount School Supply (DSS) and will soon be available from other select school-supply dealers. The Angeles® Runabout® is now in stock, ships the same day while supplies last and is backed by a three-year warranty.
Angeles®, based in Pacific, Missouri, is the leading producer in the United States of tricycles for young children, introducing its first model in 1958. Since then, Angeles® has developed a growing number of tricycles, wagons and scooters. Recent additions are Angeles Value Line™ Birch and MyRider® trikes. The popular BaseLine® Furniture and Quiet Dividers®, Angeles® Bye-Bye Buggy®, the space saving SpaceLine® Cots and the Angeles® Portable Hand-Washing Stations are recognized as industry standards throughout the world.
Discount School Supply (DSS), currently the exclusive distributor of the Angeles® 6-Passenger Runabout® and Angeles Value Line™ Birch, is a developer, manufacturer and distributor of top-quality products for the early childhood classroom. A leader in early childhood school supplies, furniture and equipment, DSS features its proprietary Colorations® brand of art materials and accessories in addition to a complete assortment of Angeles® products. DSS, unique in the marketplace because it ships from four warehouses nationwide, also promotes its 110% Lowest Price Guarantee, its customer-top-rated customer service and its consistent same-day shipping. Discount School Supply and Angeles® are part of the Excelligence family of companies. For more information visit http://www.DiscountSchoolSupply.com or call 1-800-627-2829.
Media Contact:
April Locke
831-333-2549
Excelligence Learning Corporation
http://www.Excelligence.com
###