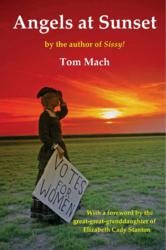 "Try to imagine if history were reversed and it were men who were denied their basic rights."
Lawrence, KS (PRWEB) April 10, 2012
According to one pollster, men tend to be more concerned about jobs while women worry about the price of everything that may affect their families. In 2012 these economic issues bubble to the surface and both Democratic and Republican parties are seeking female voters. It's easy to see why. In 2010, 61.5% of women were registered voters—compared to fewer than 58% of men. In the last presidential election, more than 60% of women voted—compared to fewer than 56% of men.
Angels at Sunset by Tom Mach is not just another historical novel. It's an accurate portrayal of the abuses women endured not only to get the right vote but to obtain other rights as well—such as the right of married women to own property, sign contracts, or have a right to their children if divorced. Shirley Johnson, a senior reviewer with Midwest Book Review claims that "Angels at Sunset is somewhat like the Titanic—the movie was to the real Titanic what this novel is to the real struggles faced by women in that day." For those who want to read in order to be enlightened at the same time they are being entertained, Angels at Sunset is the perfect book for them.
Mach's story begins in 1920 in Gettysburg, Pennsylvania, where Jessica Radford, a former suffragist, listens to the very first radio broadcast on KDKA, which broadcasts the presidential election returns. Because of the passage of the 19th Amendment, this is the first time she has ever voted. Many years earlier, she advocated against slavery and pushed for equal rights of the freed slaves. Through a biography authored by her stepdaughter Emma, she relives her often painful past working for women's suffrage, alongside Elizabeth Cady Stanton, Susan B. Anthony, Alice Paul, and many others. Author Mach vividly describes her horrific experience as a suffragist in a cruel women's prison, where she was placed because she had the audacity, in 1917, to picket the White House.
The author provides wonderful details in such episodes as the trek Stanton and Anthony took through Kansas in 1871 in a failed attempt to get a suffrage amendment passed…in Mach's vivid portrayal of the 1871 Chicago Fire…in his description of the assassination of President McKinley in 1901. Kirkus Reviews agrees, saying "Mach's text is rich in period detail." Unlike other historical novels, Angels at Sunset provides an extensive list of reference books and articles, as well as a timetable of historic events, particularly the women's suffrage movement, alluded to in this novel.
Besides being a historical novel, Angels at Sunset is also a novel of suspense intertwined with compassion. As Jessica relives her past from Emma's biography, she doesn't realize that a revengeful man is plotting to kill her and her family. But as Jessica finally grasps her appalling errors in judgment, her would-be murderer realizes the precious gift of forgiveness.