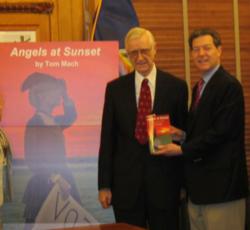 "In 1912, Kansas granted full suffrage to all women. The author of Angels at Sunset, Tom Mach, brought to my attention the need to honor these courageous Kansas women." --speech by TerriLois Gregory to the House of Representatives.
Lawrence, KS (PRWEB) April 24, 2012
Imagine if roles were reversed and it were men who were deprived of the right to vote, to be forbidden to share in the ownership of property with their spouse, or to be denied their children if divorced. What would happen? This is the question author Tom Mach raises in his historically-accurate novel Angels at Sunset. It was a century ago that Kansas women finally won their battle for their rights, and, in 2012, Mach succeeded in urging Kansas to recognize the centennial of that state's passage of women suffrage. What is particularly revealing is that an amendment for Kansas suffrage was defeated on two prvevious occasions--in 1867 and in1894. (The 1867 trek through Kansas which suffragists took to support the amendment was described in fascinating detail in Mach's book.)
Although Kansas is only one of three states celebrating their women's suffrage centennials this year, the author of Angels at Sunset claims that the bigger picture is how women across America will exercise their right to vote. According to Washington Post writers Lisa Lerer and Julie Bykowicz, the "fight for female voters in the presidential race got personal…with Ann Romney, first lady Michelle Obama and President Barack Obama wading into a dispute over stay-at-home mothers." The founder of the National Women's Law center, Nancy Duff Campbell, claims that it is "important to women to hear about what the candidates think about how we keep this recovery going, how we make sure there are jobs for women that pay well and how we make sure that there are supports for working women like child care."
In a YouTube video entitled "Angels at Sunset by Tom Mach," the author is seen with the governor, and with a poster of Mach's book in the background. Throughout the video can be heard the strains of Beethoven's "Ode to Joy," symbolic of the victory women secured over their 144-year battle for equal treatment, stemming from the founding of this country in 1776 to 1920 when the 19th Amendment to the U.S. Constitution was passed.
Angels at Sunset by Tom Mach is not just another historical novel. It's an accurate portrayal of the abuses women endured not only to get the right vote but to obtain other rights as well—such as the right of married women to own property, sign contracts, or have a right to their children if divorced. Shirley Johnson, a senior reviewer with Midwest Book Review claims that "Angels at Sunset is somewhat like the Titanic—the movie was to the real Titanic what this novel is to the real struggles faced by women in that day." For those who want to read in order to be enlightened at the same time they are being entertained, Angels at Sunset is the perfect book for them.
Mach's story begins in 1920 in Gettysburg, Pennsylvania, where Jessica Radford, a former suffragist, listens to the very first radio broadcast on KDKA, which broadcasts the presidential election returns. Because of the passage of the 19th Amendment, this is the first time she has ever voted. Many years earlier, she advocated against slavery and pushed for equal rights of the freed slaves. Through a biography authored by her stepdaughter Emma, she relives her often painful past working for women's suffrage, alongside Elizabeth Cady Stanton, Susan B. Anthony, Alice Paul, and many others. Author Mach vividly describes her horrific experience as a suffragist in a cruel women's prison, where she was placed because she had the audacity, in 1917, to picket the White House.
The author provides wonderful details in such episodes as the trek Stanton and Anthony took through Kansas in 1871 in a failed attempt to get a suffrage amendment passed…in Mach's vivid portrayal of the 1871 Chicago Fire…in his description of the assassination of President McKinley in 1901. Kirkus Reviews agrees, saying "Mach's text is rich in period detail." Unlike other historical novels, Angels at Sunset provides an extensive list of reference books and articles, as well as a timetable of historic events, particularly the women's suffrage movement, alluded to in this novel.
Besides being a historical novel, Angels at Sunset is also a novel of suspense intertwined with compassion. As Jessica relives her past from Emma's biography, she doesn't realize that a revengeful man is plotting to kill her and her family. But as Jessica finally grasps her appalling errors in judgment, her would-be murderer realizes the precious gift of forgiveness.