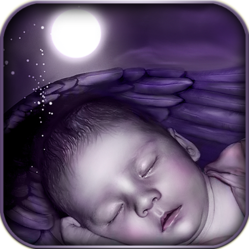 Soothing for children and stress reduction for parents all in one.
Belfast, ME (PRWEB) July 31, 2012
Being held while having lullabies sung to us is often one of people's earliest memories. Furthermore, experts tell us that giving an infant a consistent sleep cue can help the baby sleep. However, in today's busy world, giving a baby a consistent cue can be complicated.
Now there's a lullaby alarm clock app that not only sings babies to sleep but also wakes them ever so gently with award winning lullaby music. The app is called Angelsong Baby Sleep Deluxe and if parents and day care provides use the same settings, it will produce a consistent sleep cue.
The app includes 11 traditional lullabies like Hush Little Baby, Brahms Lullaby and Toora Loora Loora. They are recorded by leading healing music artist Amy Robbins-Wilson. One Amazon reviewer describes her voice as a "whisper to the soul". App owners can also add music from their own music library and the app makes it easy to arrange the music into playlists for going to sleep and for waking up.
At bedtime, the app can be set to sing for up to 99 minutes and when it approaches the last few minutes of the set time, it slowly lowers the volume to fade quietly away. In the morning or at the end of nap time, it starts singing very softly and slowly increases the volume to wake up the little one very gently.
The app also has a nightlight that shows the moon and users can pick different moon phases for different amounts of light.
"We made this app for babies, but parents are loving it, too" says Amy Robbins-Wilson "One person wrote me to say that when she played the lullabies, it put the baby and her husband to sleep at the same time."
The user interface is clear and easy to use and the app is available on iTunes. It was produced by Angelsong Creations LLC which develops and markets digital products that provide comfort and inspiration through the arts.