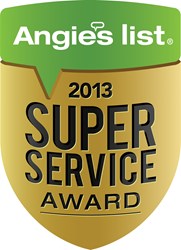 "We were honored to be recognized because it's up to the people we serve to decide whether or not we earn it," said Wade Lombard, Owner, "The Super Service Award is a testament to our mission of creating the best experience possible for our customers."
Austin, TX (PRWEB) January 08, 2014
Square Cow Movers is pleased to announce that they have received their first honor of the New Year. The company was recently named a recipient of the 2013 Angie's List Super Service Award. It's a designation that is only given to the top 5% of companies within a service category on the well-respected review website.
This is the second year in a row that Square Cow Movers has received the Angie's List Super Service Award in the movers category. "We were honored to be recognized in 2012 and even more so this year, because it's up to the people we serve to decide whether or not we earn it," said Wade Lombard, the owner of Square Cow Movers. "The Super Service Award is a testament to our mission of creating the best experience possible for our customers."
The Angie's List Super Service Award is given to the top providers that maintain outstanding reviews and ratings throughout the entire year. All companies in cities that meet the minimum size and maturity requirements are eligible for the award, however only companies that have an "A" rating in overall grade, recent grade and review grad period receive the honor. While the companies may be local businesses, the Super Service Award is a national recognition. Special designations are given to all Super Service Award winners making them easily identifiable to Angie's List users.
Square Cow Movers enjoyed a number of notable recognitions in 2013 including being named one of the Austin Fast 50 and getting selected for the Yelp Small Business Advisory Council for a third consecutive year. The 2013 Angie's List Super Service Award rounds out the year for Square Cow Movers on a very positive note.
To learn more about what sets Square Cow Movers apart, how they do business and the services they offer, please visit: http://www.squarecowmovers.com
About Square Cow Movers
Square Cow Movers isn't your typical moving company. Using the Art of Mooving - a no bull, customer-first code of ethics - Square Cow Movers has built a business on providing a personalized moving experience that takes the stress out of a move. With locations in Austin and Houston, Square Cow Movers is the go-to resource for moving in Central Texas.