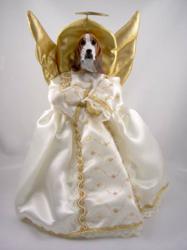 Perfect for the tree or mantle
Anoka, MN (PRWEB) November 23, 2011
DogWhatever.com offers a 20% discount for the Holidays for a limited time and Introducing Angel Dog Tree Toppers. (Use code "Dog"-case sensitive-at checkout)
These Angel Dog Tree Toppers will be the highlight on the tree or mantle. They stand 11 inches tall and are made of a beautiful silk, trimmed in a gold lace. Heads are made of lightweight unbreakable polynate with a gold plated halo. This new item will be available for a limited time.
Among the new Angel Dog Tree Toppers, DogWhatever offers a variety of pet products for the Holidays. Give the gift of health with Pet Natural vitamins, supplements, and treats along with interactive toys for the stimulation of the mind.
About DogWhatever:
DogWhatever.com is a subsidiary of DLS Solutions, LLC based in Minnesota, "Land of 10,000 Pets" DogWhatever understands that pets are a part of the family. This website was started for the pet owner; a place to purchase vitamins and supplements that they so deserve and to treat them to fun and necessity items. Feeling secure in ordering and in the products is important so DogWhatever.com has a 30 day money back guarantee and a secure website for safe and easy ordering.
Whatever They Need... Whatever They Want... DogWhatever.com
Visit http://DogWhatever.com for the complete line of Pet Products.
DogWhatever
619 Weaver Blvd
Anoka MN 55303
info(at)DogWhatever(dot)com
# # #