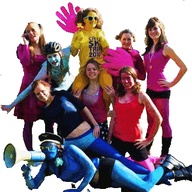 Yet despite our increasingly lengthy winters, most people tend to wear dark clothes, especially to work
Newmarket, Suffolk (PRWEB UK) 8 January 2013
Organisations and productivity are adversely affected when their individuals are absent from the workplace, or present but suffering low mood or depression. January presents a particularly marked low point for many. Can this be challenged and reduced in some way? The first charity of its kind MHRUK believes so. 'Blue Monday' is the third Monday in January. It is a short, dark day, and indeed has become known colloquially as 'the most depressing day of the year'. Blue Monday comes after the Christmas festivities have ended, it is a long time until Spring, and typically people feel rather low on what is often a cold, grey day. Yet despite our increasingly lengthy winters, most people tend to wear dark clothes, especially to work.
MHRUK hopes to make a big visual impact on Blue Monday each year, starting in 2013, by injecting some unexpected colour and joy. Instead of Blue Monday, it will become Blooming Monday.
The concept is simple; MHRUK is asking everyone to wear their brightest clothes that day. Even if workplaces usually require sombre attire, the charity hope that on this one day a year employees will be encouraged to brighten up, whilst raising awareness and helping others to understand they are indeed not alone when feeling low.
Mental Health Research UK (MHRUK) invite organisations, be it a company/school/University/law firm or other, to get on board with this fun new charity campaign. It is hoped that those who do get on board will also publicise the campaign and encourage employees/students/members to take part on Blooming Monday - 21st January 2013.
The charity hopes that this well-being campaign to raise awareness of depression and seasonal affective disorder (SAD) will help to break down the continuing stigma attached to mental illness, as well as enable participants to have fun, which will be good for their mental well-being.
The Charity
MHRUK is the first charity in the UK dedicated to funding research into the causes of mental illness in order to develop much more effective treatments that really work and do not cause debilitating side-effects. If participants in Blooming Monday wish, then it would be wonderful if they would donate £2 on the day to MHRUK. They can do this by texting BLOO22 to 70070. This enables the donor to add gift-aid. Alternatively, if your [employees/students/members] are able to provide collection buckets, we would happily receive a cheque for the total amount raised, which should be made out to Mental Health Research UK. Donation cheques should be sent to our Treasurer, Mr. David Pugh at the following address:
Robertson Pugh & Co
3 Leicester Road
Oadby
Leicester
LE2 5BD
All donations will be very much appreciated, and the charity hopes to help to make great inroads in the future into the causes of mental illness so that much better treatments can be developed to reduce the misery resulting from it.
If you would like to keep up to date with MHRUK and its efforts to improve the lives of those suffering from mental illness in the long-term, all that is necessary is to send an email to trustees(at)mentalhealthresearchuk.org.uk, which has approximately three newsletters per year.
For further information, please visit MHRUK's website at http://www.mhruk.org.
Anglia Counselling, based near Newmarket, Suffolk supports individuals, couples, the family, and organisations across East Anglia. Business owner and psychotherapist Bob Brotchie offers guidance in the challenge to reduce stigma whilst fighting the sometimes devastating effects of depression in all its many forms. All enquiries are welcome on this subject, and any others affecting emotional and mental health