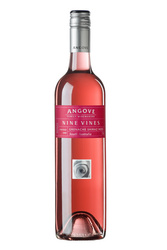 "It was perfection in a glass, and all that was needed was settling time prior to bottling."
S.A., Australia (PRWEB) May 18, 2010
Angove Family Winemakers, one of Australia's oldest family-owned wine producers, has declared its Nine Vines Rosé a vegan-friendly wine. The wine is produced without the use of any animal-derived fining agents, which make it an excellent compliment to any vegan meal.
Winemakers typically employ the use of a fining protein to reduce cloudiness or excessive tannins in the wine. The most commonly used fining agents - egg whites, gelatin and milk casein - are produced from animals, and although these animal proteins are removed from the clarified wine, the use of these fining agents makes a wine unsuitable for strict vegan diets.
However, Angove winemaker Tony Ingle is pleased to announce that the Nine Vines Rosé did not require any fining in the winemaking process. "While tasting after fermentation was completed, we decided that the job was done," said Ingle. "It was perfection in a glass, and all that was needed was settling time prior to bottling."
A blend of 70% Grenache and 30% Shiraz, the Nine Vines Rosé is bright and vibrant pink in color. It is a refreshing wine bursting with flavors of fresh raspberry, strawberry and cherry and is perfect for spring and summer sipping. The Nine Vines Rosé is sourced from Angove's own vineyards and premium growers in South Australia. It retails in major U.S. markets for $9.99.
For more information on the Nine Vines Rosé and Angove Family Winemakers, visit http://www.angoves.com.
Angove Family Winemakers, one of Australia's oldest family-owned wineries established in 1886 by Dr. William Thomas Angove, excels at crafting premium-quality wines by combining the time-honored winemaking methods of its forbearers with today's cutting-edge technology and innovative packaging. Located in South Australia, Angove award-winning wines appeal to oenophiles worldwide with a premium range offered in the U.S., including Vineyard Select, Nine Vines and Red Belly Black. Trinchero Family Estates is the U.S. importer of Angove Family Winemakers.
# # #