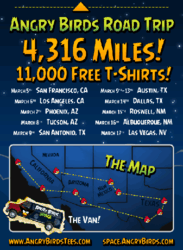 Angry Birds Space Tour, with 11,000 Free Tees and special showing at SXSW
Austin, TX (PRWEB) March 06, 2012
Angrybirdstees.com is sending a street team out on an 4800 mile road trip making stops along the way to hand out 11,000 tee shirts to fans. With the launch of the new game Angry Birds Space comes a free T Shirt giveaway. Watch the Angry Birds Space Tour page Twitter feeds or Facebook updates for the next location the tour van will be heading! Follow #ABSpace or #ABSpaceTruck for live updates on locations, pictures, and video. The blog will be the central location to get updates, post pictures and tweets about the event. The climax of the tour will be at South by South conference in Austin, Texas.
The tour begins in San Francisco on March 5th at the Game Developers Conference (GDC) with stops along the way in Los Angeles, Phoenix, San Antonio, Austin and Las Vegas. The Angry Birds Space tour van will then make its way back to the west coast with several additional stops before ending in back in California. Watch the Angry Birds blog, twitter feeds or Facebook page with updates on the location of the tour van handing out free tees. The easiest way to get up to the minute locations are the Twitter feeds @AGBTees or #ABSpaceTour for live updates on locations and pictures.
Angry Birds Space Tour and New Game Launch
The new Angry Birds Space game will launch March 22nd, along with all new lines of apparel and merchandise. The Space Tour is an introduction to the new Angry Birds Space game. The van will be making stops at radio stations, college campuses, and public venues, so be on the look out for a T Shirt launching in one of the select cities. The slingshot is loaded in the tour van promoting the new game across the country with a social media party, photo shoots, fun games and contests. There will be fun events planned along the way and a surprise "performance" planned at SXSW, Saturday, March 10th.
Be on the look out for Angry Birds Space T Shirts ready for release with the new game.
For more information on the Angry Birds Space Tour contact Samuel Piper at spiper(at)5sun(dot)com