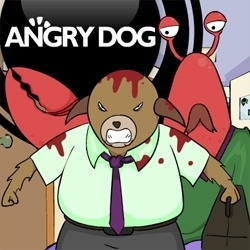 Here is an example of quality animation content that just needed to be cultivated then pushed through the proper channels to be given an opportunity. We are confident that Angry Dog, will be a success
San Fransisco, CA (PRWEB) July 29, 2008
aniBoom (aniBoom.com), the premiere independent animation network has launched a new original funny animated cartoon, a series called "Angry Dog".
The funny cartoon video, based on a popular short animation by Australian Chris Voigt, features a cast of quirky characters who get themselves into absurd situations. The main protagonist, a small, bad tempered dog named George works in an office and interacts with other animated characters such as a horse-headed tv talk show host, a libidinous lobster and his sidekick/roommate - a grizzly bear.
The pilot animated video of Angry Dog, was identified as having potential for tv after becoming a hit on aniboom.com as well as on partner channels such as YouTube, Joost, and Veoh. The aniBoom channel on YouTube attracted hundreds of thousands of views and enthusiastic positive comments. Animations by this independent animator have garnered a cult following, prompting many to subscribe in order to receive updates on new funny cartoon videos. The videos success resulted in a collaboration between aniBoom's Creators Studio and Mr. Voigt to produce the Angry Dog animated series. Take a first look at the new videos at aniboom.com/angrydog
aniBoom CEO Uri Shinar says , "Here is an example of quality animation content that just needed to be cultivated then pushed through the proper channels to be given an opportunity. We are confident that Angry Dog, will be a success"
The aniBoom Creators Studio works to realize aniBoom's mission of identifying and maximizing the potential of independent animators around the globe. Together with these untapped talents, new exciting animation and cartoon content is produced and then distributed across aniboom's multi-platform network, generating incredible exposure and revenue.
Creator Chris Voigt explains, he was contacted by a producer working with Aniboom to make a series around some scripts they had, but instead he pitched Angry Dog instead and was ecstatic when it received the green-light, 'Working on Angry Dog has been fantastic. Aniboom has given me complete freedom to make whatever I want and has been glowing in its feedback! It's my ideal job!'
A freelance animator, Mr. Voigt has a Diploma of animation and maintains a popular website for his work and video collection, GreasyMoose.com. He won the Best Young Filmmaker Award, at the Brisbane Fast Film Festival in 2006 for his funny animation Angry Dog. Chris resides in Brisbane, Australia.
The new funny animated series can now be seen on aniboom.com including the pilot episode and more about Chris in his profile page. The series includes 7 brand new cartoon episodes with potentially more released in the coming months, with the aim of a tv series deal.
For further information about the aniBoom Creators Studio, please visit aniBoom Creator Studio
About aniBoom
aniBoom is a premier multi-platform animation network that teams up with untapped talent around the world, to create, produce and distribute compelling high quality animation brands at unusual speed and cost efficiencies to web, mobile, gaming and TV media industries worldwide.
At aniBoom.com, the company has brought together a vibrant community of world class animators and animation enthusiasts to create, watch and share a growing library of original independent cartoons and animations that crosses multiple genres and interests. Users can easily create and showcase their work using the site's dynamic features including a robust DIY tool set called Animachines. Throughout the year aniBoom also engages its community with a variety of creative contests offering prizes of up to $50,000 each. The company is based in Israel with its U.S. headquarters in San Francisco.
###