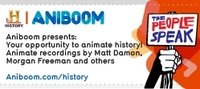 With this competition, Aniboom and HISTORY get to show the full force and growing impact of non-fiction animation and how it resonates with primetime television audiences
New York, NY (PRWEB) July 15, 2009
HISTORY™ and Aniboom, the world's first virtual animation studio, announced a collaboration challenging professional animators to create unique interpretations of 10 readings of historical speeches by celebrity performers.
Animators compete for $35,000 in cash prizes and the opportunity to have their animation shown on TV on The History Channel. The audio recordings to be animated are featured in the highly anticipated The People Speak film airing later this year on HISTORY and can be downloaded from Aniboom HISTORY competition page.
The stars featured in the film include Matt Damon, Marisa Tomei, Bruce Springsteen, Eddie Vedder, Viggo Mortensen and many others. They give voice to the lives and experiences of ordinary Americans who have changed the course of history. Animators around the world will have the opportunity to submit their animations at http://www.aniboom.com/history. Animators will be able to submit as many animations as they like, but may only receive prizes for one animation.
"With this competition, Aniboom and HISTORY get to show the full force and growing impact of non-fiction animation and how it resonates with primetime television audiences," said Uri Shinar, founder and president of Aniboom. "We are excited to give our animators access to such powerful words and entrée to such an incredible media partner. Our virtual studio encompasses creators in 72 countries -- including many talented animators not living under democracy -- who are now able to use their talent to bring new perspective to great words and in the process have their work seen by millions and pitched to a leading network."
"We are pleased to work with Aniboom and the large number of animators and designers who participate in their online community," said Chris Moseley, SVP, Marketing, History. "The People Speak is a film that so wholly demonstrates that history is literally made every day, from the ground up. With this initiative, we hope to encapsulate what these important, historical and game changing words mean to people on a visual level. We anticipate very powerful responses. The competition will enable HISTORY to bring the expression of democracy to greater heights, on air, online, through words and graphics, making HISTORY an even broader '360' experience."
The People Speak animation competition will be conducted in two stages. The first stage calls for the Aniboom creator community to submit their entries (storyboards, animatics or animations) based on the 10 celebrity recordings from the film, The People Speak, airing on HISTORY later this year. The second stage will grant five finalists $5,000 to further develop their original creation as well as leaving the door open to other animators to create and submit their final full version giving the animator a chance to be a wildcard finalist - and may have the opportunity to have their work aired on HISTORY as a 30 second spot. The Grand Prize winner will receive additional on-air promotion, an additional cash prize of $10,000 and a development deal with HISTORY.
The People Speak will feature dramatic performances chronicling the history of this country, including charter documents, letters, diaries and more, from additional celebrities such as Kerry Washington, David Strathairn, Don Cheadle, Jasmine Guy, Q'orianka Kilcher, Michael Ealy and musical performances from stars such as Bruce Springsteen, Eddie Vedder, Allison Moorer and John Legend. It is from these performances that Aniboom's creator community will be deriving their inspiration and transforming the human form of the presentation into an animated version of the same story.
Aniboom's content creation competition with HISTORY and The People Speak organization comes off the heels of the current FOX-Aniboom Holiday Animation Challenge in which Aniboom has partnered with Fox Broadcasting Company and 20th Century FOX Television in a search of a new signature animated holiday special for TV. The contest is generating substantial buzz, with entries available for viewing and commented on now at http://www.Aniboom.com/fox. The winner from up-and-coming animators around the world will be chosen later this year.
About Aniboom
Aniboom (http://www.aniboom.com) is a virtual animation studio that partners with untapped talent around the world to create, produce and distribute unique and high-quality animation creations. Utilizing the web in an effort to seek out the best global talent, Aniboom's vibrant community of world class animators and animation enthusiasts cultivates and develops content intended for commercial application across the realms of TV, Film, Advertising, Digital Video-Gaming, Web, and Mobile Content worldwide. With investors such as Draper Fisher Jurvetson, DFJ Tamir Fishman Ventures, and Evergreen Venture Partners, experienced entertainment and new media executives, and a global community of professional animators, Aniboom's unique virtual studio model has set a new standard on how animated content is created, fostered, and gained commercial success. Aniboom is based in Israel and has offices in New York and San Francisco.
About The People Speak
The People Speak (http://www.thepeoplespeak.com) is produced for HISTORY by First Tuesday Media, ArtFire Films, Cross River Pictures, The Johnson/Roessler Company, Membrane, and Brolin Productions. Matt Damon, Josh Brolin, Chris Moore, Anthony Arnove and Howard Zinn are Executive Producers. For HISTORY, David McKillop and Russ McCarroll are the Executive Producers.
About HISTORY
HISTORY™ and HISTORY HD™ are the leading destinations for revealing, award-winning original non-fiction series and event-driven specials that connect history with viewers in an informative, immersive and entertaining manner across multiple platforms. Programming covers a diverse variety of historical genres ranging from military history to contemporary history, technology to natural history, as well as science, archaeology and pop culture. Among the network's program offerings are hit series such as Ax Men, Battle 360, The Universe, Cities of The Underworld and Ice Road Truckers, as well as acclaimed specials including 102 Minutes That Changed America, King, Life After People, 1968 with Tom Brokaw, Nostradamus:2012 and Star Wars: The Legacy Revealed. HISTORY has earned four Peabody Awards, four Primetime Emmy® Awards, 12 News & Documentary Emmy® Awards and received the prestigious Governor's Award from the Academy of Television Arts & Sciences for the network's Save Our History® campaign dedicated to historic preservation and history education. Take a Veteran to School Day is the network's latest initiative connecting America's schools and communities with veterans from all wars. The HISTORY web site, located at http://www.history.com, is the definitive historical online source that delivers entertaining and informative content featuring broadband video, interactive timelines, maps, games, podcasts and more.
###