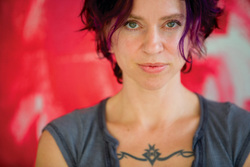 New York, NY (PRWEB) October 8, 2009
On Thursday, October 8th in New York City, Ani DiFranco will receive the Woody Guthrie Award for being a voice of positive social change at the 13th annual Guthrie Awards Dinner.
Ms. DiFranco emerged onto the music scene in the 1990's with her signature guitar playing and honest, provocative songwriting. The self-described Little Folksinger bucked the major label system opting to release music on her own terms. She boldly started her own record label, Righteous Babe Records, when going out on one's own was considered faux pas. She has since released over twenty albums including her most recent earlier this year, the acclaimed Red Letter Year.
Throughout her career, Ani's performances, songs, and poetry have inspired legions of followers to get politically active. Ani combines the personal with the political in her songwriting and in her actions. Her often autobiographical lyrics touch on a wide range of issues including patriarchy, racism, sexism, homophobia, abortion, poverty and war. In 2006, NOW (National Organization of Women) presented Ani with their "Woman of Courage Award" for her contributions to the feminist movement. Through her Righteous Babe Foundation, DiFranco has backed various cultural and political grassroots organizations. Most recently, Ani teamed up with her manager Scot Fisher to save an old church from demolition in Buffalo, NY. The renovated building is now known as "Babeville", a concert and art space for her hometown community.
In 2000, Righteous Babe Records released 'Til We OutNumber 'Em, a collection of Woody Guthrie's songs, stories and poetry performed live by an all-star cast.
Woody Guthrie, the American songwriter/poet/singer, died of complications from Huntington's Disease. His widow, Marjorie Guthrie, founded the organization 42 years ago. The Society's mission - to improve the lives of people with HD and their families - is realized by a three-part program to find a cure for the disease; provide help to people with HD and their families; and to educate the public and medical community about HD.
The 13th annual Guthrie Awards Dinner takes place at The Plaza Hotel in New York City at 6:30 PM this Thursday, October 8th. Tickets for the event are available online at http://www.hdsa.org/guthrie, or by calling 800-345-HDSA, extension 217.
All proceeds benefit the Woody and Marjorie Guthrie Research Fund which has risen over $1,500,000. These funds help support the innovative HDSA Coalition for the Cure, a unique consortium of 16 world class scientists working in teams who have made most of the major discoveries as to how the Huntington gene causes HD, at the genetic and molecular level. These findings have made it possible to develop potential therapies to treat the symptoms of Huntington's Disease, and eventually the disease itself.
For more information on Ani DiFranco, please visit http://www.musicallies.com/resources/anidifranco or contact Crissa Requate at Music Allies (828-252-6300x703)
# # #