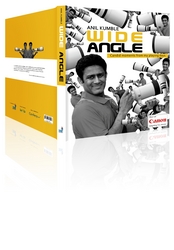 good moment from running away
Bangalore (PRWEB) March 18, 2010
As Sachin Tendulkar relates in his Foreword, Kumble, the man with the camera, would tell his teammates, "As long as I am in the team, you will have no privacy."
Royal Challengers Bangalore proudly presents Anil Kumble's Wide Angle that brings together the great player's abiding passions - cricket, photography and wildlife. It gives a glimpse into the lives of his contemporaries beyond the boundary and our wild animals within theirs. Wide Angle, coffee table book of rare sensitivity, a document of drama brings alive personalities while giving a peep int the soul of the man who bowled India to more victories than anyone else. Although it is a book of cricket, it is not a cricket book so much as the story of what it means to be a player in a country that is so passionate about the sport. Shining through the pages of Wide Angle are personal experiences of one of the toughest men to have played the game, his unique take on men and matters subtly woven around stories in the dressing room, stories on tour and the sheer joy of capturing moments in history.
Says Dr. Vijay Mallya, Chairman, The UB Group, "Anil's eye for detail, grit and meticulous planning have led him to take on any challenges be it on-field or off it. Wide Angle is a precious coming together of this unique game changing ability. We are proud of his leadership for Royal Challengers. It is Anil's mentorship and experience that makes Royal Challengers one of the most sought after teams by the IPL fans. It is an honor to be present at this glorious occasion alongside one of the greatest achievers in the world of cricket."
Releasing the book at an elegant ceremony held at Hotel Gardenia in Bangalore, Shane Warne, the Australian legend recalled his long association with Kumble. "He is a rare combination of a gentleman and a fierce competitor and one of the jewels of the sport," he said.
With a Canon camera in hand, Kumble began to paint pictures as a teenager to stop a "good moment from running away". Wide Angle is a repository of memories, intense, casual, and celebratory. Mr. Alok Bharadwaj, Sr. Vice President - Canon India said, "we are proud to participate in a living legend's memorable journey. Kumble has shot most of his pictures with his Canon - cameras that don't just take pictures, but create memories."
The book is being printed and distributed by India's premier online Digital Photography company Canvera who have won many awards for the quality of their coffee-table-books. Canvera has built a full ecommerce site that will allow cricket lovers around the globe to preview and buy the book.
The final word must go to Anil Kumble himself: "This book will give you some insight into what
happens in a cricketer's life outside of the game itself." The book, produced and marketed by TENVIC (A Division of Anil Kumble Sports Pvt. Ltd.); is priced at Rs. 5,900/= and is available for purchase exclusively on http://wideangle.canvera.com.
###