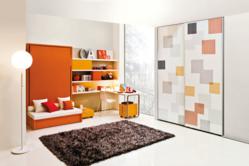 "It's a traditional idea that has been updated in a very modern, sexy, Italian way," says Museum of the City of New York Curator Donald Albrecht.
Miami, FL (PRWEB) February 07, 2013
In small 325-square-foot living spaces, plans are being set for cutting-edge micro-apartments in New York City that house a living room, bedroom, dining room, media center, and lateral storage all in one tiny space. Using Clei technology, "Making Room," an exhibit at the Museum of the City of New York, demonstrates how one can fit an entire household into a meager space.
With more and more people wanting to maximize the space that they do have with style and function, Clei's exciting collection is at the forefront. Anima Domus, the exclusive South Florida dealer for the innovative Italian brand, is excited to see Clei's space saving solutions and modern murphy beds used to their full potential in a city such as New York.
"The growing need for transformable furniture is very apparent to us here in South Florida. We have clients from all over the world coming to us inquiring about our space saving solutions and how to best maximize the space they have," says Marconi Naziazeni, owner of Anima Domus.
Floridians may have more square footage than New Yorkers, but the need for furniture that plays multiple parts is just the same. Clei's modern murphy beds and modular systems are a perfect solution to effortlessly turn home offices and dens into sleek guest bedrooms, as well as and living and dining rooms into dual-functioning spaces with more purpose.
"I believe that a great space should reflect ones reality at a specific point in time. A properly planned room can truly enhance one's quality of life," says Naziazeni.
With a sleek contemporary design and patented technology, Clei's transformable modular systems are very easy to use, incorporating simple movements for multiple functions. The systems are extremely durable and are meant to be used on a daily basis.
"It's a traditional idea that has been updated in a very modern, sexy, Italian way," says Museum of the City of New York Curator Donald Albrecht.
Clei units are fully customizable match a homeowners needs with bookshelves and storage units in different lacquers, and upholstery options ranging from leather, to eco-leather, to fabric.
About Anima Domus
Anima Domus, South Florida's premiere destination for contemporary Italian home furnishings,
was founded in 1998 by Marconi and Silvia Naziazeni and grew from a small family operation into Miami's premiere destination for high-end contemporary Italian home furnishings. With its emphasis on understanding the needs of each one of its clients and catering to those needs, Anima Domus has become a leading resource for interior furnishings in South Florida. Anima Domus extends special consideration for the trade, offering services such as project development, fabric selection, custom wall units and closet development that are geared specifically toward facilitating an easier purchasing process for its trade clients.