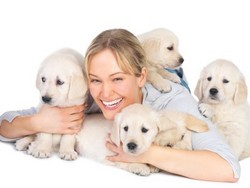 As a pet owner myself, I can attest to the importance of training professionals to care for these treasured members of our families
Staten Island, NY (Vocus) August 30, 2010
The CollegeBound Network (CBN) is offering users who visit CollegeSurfing.com an exclusive opportunity to win a full scholarship to attend Animal Behavior College (ABC), where animal lovers pursue careers via local hands-on training using the latest animal training techniques.
According to the American Pet Products Association's 2009/2010 National Pet Owners Survey, 62 percent of U.S. households – that's 71.4 million homes – own a pet. That's good news for students interested in animal careers, say CBN editors, and one reason why it chose to share ABC's scholarship contest, which requires students to write an essay up to 500 words. The essay topic will have entrants focus on why they would like to become a Certified Dog Trainer, Certified Vet Assistant, or Certified Groomer, and how they will use their education to change their life and the lives of others.
In line with the booming pet population, employment of animal care and service workers is expected to grow 21 percent over the 2008-18 decade – much faster than the average for all occupations, reports the Bureau of Labor Statistics. Employers prefer to hire those who have experience with animals, which is where animal trainer schools come in. At these schools, students gain a strong academic and theoretical foundation as well as plenty of practical experience training animals.
"As a pet owner myself, I can attest to the importance of training professionals to care for these treasured members of our families," says Gina LaGuardia, vice president of content development and social media at The CollegeBound Network. "The CollegeBound Network is pleased to work with Animal Behavior College to offer this incredible opportunity."
Details about the scholarship contest are available on The CollegeSurfing Insider, one of CBN's many blogs dedicated to the pursuit of career and college opportunities. Essays must be submitted to shelly@dawgbiz.net by September 30, 2010. The scholarship covers the complete tuition of one ABC program; no additional costs will be incurred throughout the program. The winner will be selected and notified by October 15, 2010; all decisions are based on the sole discretion of Animal Behavior College.
"Now, more than ever, people want to have a career they enjoy and love," says Shelly Levin, an ABC school representative. "Animal Behavior College gives people the opportunity to train for a lifelong career of working with animals that allows them to make a great living. We are excited to be able to give someone the gift of that kind of an education."
About The CollegeBound Network
Since 1987, The CollegeBound Network (CBN) has worked with America's leading colleges, universities, and career schools in connecting learners with educational opportunities. More than 3 million surfers utilize CBN's sites, including CollegeBound.net, CollegeSurfing.com, SpaBeautySchools.com, and TopCareerSchools. CBN specializes in recruitment lead generation solutions for 1,000 educational institutions and 3,500 campuses, using its content-rich portals. In addition to its content-rich websites, CBN reaches out to students through various social media, including Facebook, Twitter (@CollegeBoundnet and @CollegeSurfing), and its daily "U. Got It?" and College Insider blogs.
About Animal Behavior College
At Animal Behavior College, animal lovers can pursue their professional certification in any of these three exciting careers – Dog Trainer, Pet Groomer, and Veterinary Assistant. With more than 1,000 locations nationwide, ABC is the leader in animal career vocational training. With 13,000+ students enrolled since 1998, ABC is dedicated to helping animal lovers make their passion their profession.
###