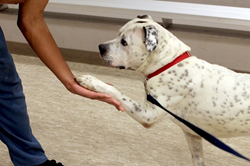 The Paws & Think program is as effective as it is innovative, and I've seen it change the lives of juvenile offenders and rescued animals alike.
Indianapolis, IN (PRWEB) November 10, 2015
The Bell Agency, a family owned insurance firm with offices that serve communities throughout the Indianapolis, Indiana area, is initiating a charity drive to support non-profit Paws & Think, an organization that offers a series of innovative therapeutic programs that provide rehabilitation for young people in juvenile detention facilities.
Paws & Think pairs juvenile detention residents with rescued canines from Indianapolis Animal Care and Control. By working to train these animals to learn basic obedience skills, juvenile offenders receive real and meaningful therapeutic treatment that teaches empathy, treatment, and bonding, as well as all the affection that comes from working with a rescued animal.
"The Paws & Think program is as effective as it is innovative, and I've seen it change the lives of juvenile offenders and rescued animals alike," says Ann Bell, owner and manager of the Bell Agency. "I think it's wonderful that this program has found a way to provide juvenile inmates with an opportunity to grow and learn while simultaneously giving rescued animals the attention and training they need."
Bell and her team are actively reaching out to fellow community members, business associates, clients, and friends in an effort to advocate for the Paws & Think program, as well as to raise donations that will be used to ensure the organization is fully funded going forward. The Bell team is also building a social media page that they hope will draw in even more support from all across the Midwest. As well, the Bell Agency will provide a full page feature of the charity drive in their online monthly magazine "Our Hometown," available for free download here: http://thebellagencyinc.com/Our-Hometown-Magazine_41.
In addition to championing the Paws & Think program, the Bell Agency team has committed to supporting a new local cause or charity every 30-60 days as part of an ongoing community involvement campaign the team calls "Agents of Change."
Readers who are interested in learning more about the Paws & Think organization, or who want to join the Bell Agency in supporting the program, are invited to visit the Bell Agency website and make a direct donation to the effort from this page: http://thebellagencyinc.com/Supporting-At-Risk-Youth-With-Therapy-Animals_23_community_cause. Readers who want to learn more about the other local charities and causes that have been supported by the Bell Agency, or causes that will be supported in the future, are encouraged to bookmark their Community Causes page, located here: http://thebellagencyinc.com/community-cause.
About The Bell Agency
As a locally owned, family-oriented insurance provider, the Bell Agency team knows exactly how to explain the intricacies of modern insurance policies in an easy to understand way. By placing the needs of the customer first, the Bell Agency offers affordable and effective insurance solutions to families and businesses throughout the Indianapolis area. When you leave the Bell Agency office, we want you to feel confident, informed, assured, and completely satisfied with your policy decisions. Our representatives are standing by to assist you over the phone at 317-865-9694.