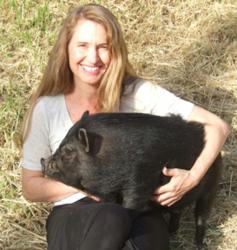 Buttercup accompanies me to therapy sessions, where he enhances my work with students who have a variety of speech challenges. He has helped some students attain their goals and others just feel safer and more secure in the therapy environment.
Jacksonville, FL (PRWEB) March 08, 2012
Professional Development Resources has announced a new addition to its online continuing education (CE) curriculum for mental health professionals: Animal Assisted Therapy. The course is designed to provide health and mental health professionals with the information and techniques needed to begin using the natural bond that seems to exist between humans and animals to assist with their therapeutic work.
In Animal Assisted Therapy (AAT) the human-animal bond is utilized to help meet individual therapeutic goals and reach individuals who are otherwise difficult to engage in verbal therapies. AAT is considered an emerging therapy at this time, and more research is needed to determine the effects and confirm the benefits. Nevertheless, there is a growing body of research and case studies that illustrate the considerable therapeutic potential of using animals in therapy. The CE course describes research in which AAT has been associated with improving outcomes in four areas: autism-spectrum symptoms, medical difficulties, behavioral problems, and emotional well-being.
According to Pet Partners, a non-profit organization that trains and registers animals and their handlers for AAT programs, "AAT is a goal-directed intervention in which an animal that meets specific criteria is an integral part of the treatment process. AAT is directed and/or delivered by a health/human service professional with specialized expertise, and within the scope of practice of his/her profession. It is designed to promote improvement in human physical, social, emotional, and/or cognitive functioning [cognitive functioning refers to thinking and intellectual skills]. AAT is provided in a variety of settings and may be group or individual in nature. This process is documented and evaluated."
The author of the course is Lois Brady, MA, CCC-SLP, a San Francisco-based speech-language-pathologist. Brady is registered with Pet Partners, along with her co-therapist, a pot-bellied pig named Buttercup. "Buttercup accompanies me to therapy sessions, where he enhances my work with students who have a variety of speech challenges, says Brady. "He has helped some students attain their goals and others just feel safer and more secure in the therapy environment. He has heard many students utter their first words, start conversations, or ask questions."
A variety of animals have been used in AAT, including (in addition to Buttercup) dogs, horses, dolphins, farm animals, and any number of small animals like cats, rabbits, and guinea pigs. Each species has its advantages and disadvantages. Comfort and safety are a primary concern for students and animals alike. Pet Partners has published best practice guidelines and strategies for reducing risk. AAT has been applied not only to the practice of speech-language pathology, but also to occupational therapy, physical therapy, and mental health therapy.
An intriguing potential application of AAT is for use with children who have autism spectrum disorders (ASD). Brady recounts the following success story: "Bert is a 10-year-old boy with autism who has emerging speech. He has been my student for several years and has worked his way through the challenges of being non-verbal to the point of putting together short phrases used to make a request. Recently, his mother proudly reported that Bert had his first conversation. 'Wow! What was the conversation about?' I asked. His mother embarrassingly replied, 'I don't know… it was with the dog.'
With the publication of this new course, Professional Development Resources hopes to expose its readers to a novel approach to working effectively with individuals who might be difficult to reach otherwise.
About Professional Development Resources, Inc.
Professional Development Resources is a Florida nonprofit educational corporation founded in 1992 by licensed marriage and family therapist Leo Christie, PhD. The company, which is accredited by the American Psychological Association (APA), the Association of Social Work Boards (ASWB), the National Board for Certified Counselors (NBCC), the American Speech-Language-Hearing Association (ASHA), the American Occupational Therapy Association (AOTA), and the Academy of Nutrition and Dietetics (formerly the American Dietetic Association) – as well as many other national and state boards – has focused its efforts on making continuing education courses more cost-effective and widely accessible to health professionals by offering online home study coursework. Its current expanded curriculum includes a wide variety of clinical topics intended to equip health professionals to offer state-of-the art services to their clients.
Contact:
Leo Christie, PhD, CEO
Professional Development Resources, Inc.
904-645-3456
http://www.pdresources.org/