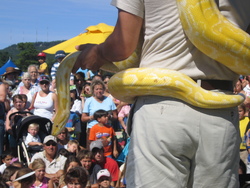 Comcast is focused on delivering entertainment and connecting people to what's important in their lives. We look forward to welcoming thousands to this fun-filled family event.
Hartford, CT (PRWEB) August 1, 2007
For the past 10 years, ANIMAL PLANET EXPO has entertained, educated and energized over one million animal lovers of all ages nationwide. And it's only getting bigger and better! With new attractions and pet welfare at the forefront, ANIMAL PLANET EXPO rolls into Hartford on Saturday, August 11 and Sunday, August 12 from 10 AM to 4 PM at Farmington Polo Grounds, 152 Town Farm Road in Farmington. Animal Planet and Comcast, plus national sponsor the makers of Fresh Step® litter invite Hartford-area residents to bring their families -- and even their "fur" children -- to the event to celebrate the wonder of wildlife, the companionship of pets and the important role animals play on this planet.
Year after year, ANIMAL PLANET EXPO captivates and delights visitors, featuring a feast for the eyes, ears and tails with high-flying Frisbee dog shows, interactive trivia games, and awe-inspiring live animal presentations. This year, ANIMAL PLANET EXPO truly goes BIG with a brand-new 16'x19' LCD video screen at the new and impressive R.O.A.R. Stage (Reach Out. Act. Respond), tuning all event attendees in to the happenings at every corner of EXPO. Frisbee dog show times are 11 AM, 12:30 PM, 2 PM and 3:30 PM, and the R.O.A.R. Stage live animal presentations of the wilder kind, including exotic animals like pythons, alligators, and lemurs, will take place at 10:30 AM, 11:30 AM, 1 PM and 2:30 PM.
"Comcast is thrilled to once again bring ANIMAL PLANET EXPO to the Farmington Valley Polo Club for area animal lovers to enjoy a fun-filled safari experience in their own backyard," said Pam Mackenzie, Vice President for Comcast's Hartford/Springfield Area. "Comcast is focused on delivering entertainment and connecting people to what's important in their lives. We look forward to welcoming thousands to this fun-filled family event."
An all-new component of ANIMAL PLANET EXPO this year is R.O.A.R., Animal Planet's nonprofit animal advocacy partnership with leading animal organizations that encourages people to Reach Out, Act, and Respond in helping to make the world a better place for animals. This summer, R.O.A.R. invites ANIMAL PLANET EXPO attendees to take that first step in becoming a voice for animals by making a R.O.A.R. Promise on-site. Promises can be as simple as taking the family pet for a daily walk, spreading the word about conservation, or supporting a favorite wildlife foundation.
Returning with ANIMAL PLANET EXPO is the action-packed Discovery Kids' Endurance Experience, a hands-on adventure that lets kids experience the mental and physical competition of Discovery Kids Channel's wildly popular series ENDURANCE: HIGH SIERRAS. In Discovery Kids' Endurance Experience, kids can compete in a number of activities that simulate the grueling physical challenges and tests of wit as seen on ENDURANCE, including a timed "hanging" challenge and a gargantuan climbing wall.
Visitors to ANIMAL PLANET EXPO also have the opportunity to experience firsthand the clarity of high-definition programming in the Discovery HD Theater Dome. Visitors will be treated to breathtaking programming from Discovery HD Theater, such as PLANET EARTH and DISCOVERY ATLAS HD. While taking in the visual feast, guests can fill out forms to enter for a chance to win an HD television set.
This year, the makers of Fresh Step® litter are sponsoring the hugely popular Pet Den. The makers of Fresh Step® litter and Our Companions Domestic Animal Sanctuary, Inc. will provide pet adoption opportunities and helpful information on how to find the perfect pet for your family. From 10 AM to noon both Saturday and Sunday, The makers of Fresh Step® litter will also host an "Ask the Vet" session, where pet owners can meet one-on-one with local veterinarian Dr. Christine Terninko to ask pet-related questions. As part of ANIMAL PLANET EXPO, The makers of Fresh Step® litter and the ASPCA® (American Society for the Prevention of Cruelty to Animals) will make a $5,000 donation to Our Companions Domestic Animal Sanctuary, Inc.
Other activity pavilions to go wild for at ANIMAL PLANET EXPO include the following:

Animal House – Get to know even more live animals, while animal experts introduce exotic species from around the world.
Safari Snaps – Download the ultimate digital photo of you with a virtual version of Animal Planet's Jeff Corwin and Terri and Bindi Irwin.
Bug House – Find out what all the buzz is about. Discover the world of bugs and butterflies, and check out the new incredible farm of burrowing ants.
Kids' Zone – Kids can get their faces painted, try the "Happy Gator" obstacle course, test their legs on the new 18' Spider Mountain climbing tower and play other fun games.
Heroes of Animal Planet – Protect your pet just as the stars of ANIMAL PRECINCT do by creating your own personalized pet tag.
Connection Zone – Kids play a panda-themed game for a prize, while adults view demonstrations and take advantage of special offers on the latest products from Comcast.
Pet Misters and Watering Holes – Let your pets "chill out" and quench their thirst on a hot day.
Comcast will also be on-site to provide valuable information about their most innovative new products available to consumers, including Pet Adoption ON DEMAND, a new service that allows Comcast Digital Cable customers to view profiles and videos of animals in need of a home.
Through a partnership with the Connecticut Humane Society, Comcast provides video profiles of cats and dogs looking for new families on its ON DEMAND service. Every two weeks, profiles are refreshed with new faces as the animals are adopted into loving homes. Comcast Digital Cable customers can view the animal profiles at no additional cost by going to the "Get Local" section of the ON DEMAND menu and selecting "Pet Adoption ON DEMAND."
Digital Cable customers also have access to Animal Planet, Discovery Kids and Discovery HD Theater ON DEMAND programming. ON DEMAND offers an ever-growing library of more than 9,300 shows every month available any time customers want to watch them – with the ability to fast forward, rewind and pause selections. Nearly 95% of ON DEMAND programs are available at no additional charge.
Comcast customers can find Animal Planet on Comcast Channel 44, Discovery Kids on Comcast Channel 130 and Discovery HD Theater on Comcast Channel 205. Go to http://www.animalplanet.com and click on "Animal Planet Events" to find more information on ANIMAL PLANET EXPO.
About Comcast Corporation
Comcast Corporation (Nasdaq: CMCSA, CMCSK) (http://www.comcast.com) is the nation's leading provider of cable, entertainment and communications products and services. With 24.1 million cable customers, 12.4 million high-speed Internet customers, and 3.5 million voice customers, Comcast is principally involved in the development, management and operation of broadband cable systems and in the delivery of programming content.
Comcast's content networks and investments include E! Entertainment Television, Style Network, The Golf Channel, VERSUS, G4, AZN Television, PBS KIDS Sprout, TV One, Comcast SportsNet and Comcast Interactive Media, which develops and operates Comcast's Internet business. Comcast also has a majority ownership in Comcast-Spectacor, whose major holdings include the Philadelphia Flyers NHL hockey team, the Philadelphia 76ers NBA basketball team and two large multipurpose arenas in Philadelphia.
Comcast's New England regions serve 2.6 million customers in Massachusetts, New Hampshire, Vermont, Maine, Connecticut and New York and employ nearly 7,000 individuals.
About Fresh Step® Litter
Fresh Step® litter is a part of The Clorox Pet Products Company, a subsidiary of The Clorox Company, headquartered in Oakland, Calif. Clorox is a leading manufacturer and marketer of consumer products with fiscal year 2006 revenues of $4.6 billion. With 7,600 employees worldwide, the company manufactures products in two dozen countries and markets them in more than 100 countries. For more information about Clorox, visit http://www.TheCloroxCompany.com. For more information about Fresh Step® litter, visit freshstep.com.
About Animal Planet Media Enterprises
Animal Planet Media Enterprises (APME), a multi-media business unit of Discovery Communications Inc, connects humans and animals with rich, deep content via multiple platforms and offers animal lovers and pet owners access to a centralized online, television and mobile community for entertainment, information and enrichment. APME consists of the Animal Planet television network, available in over 90 million homes in the US; online assets http://www.animalplanet.com, the ultimate online destination for all things animal; the 24/7 broadband channel, Animal Planet Beyond; Petfinder.com, the #1 pet-related Web property globally that facilitates pet adoption; PetsIncredible, a major producer and distributor of pet-training videos and includes web service PetVideo.com; and other media platforms including a robust Video-on-Demand (VOD) service; mobile content; and merchandising extensions.
Members of the press interested in attending ANIMAL PLANET EXPO who would like to obtain more information or interview ANIMAL PLANET EXPO staff or talent onsite should contact Susan Berube at 240.662.2928.
Contact:
Susan Berube
Animal Planet Expo
(240) 662-2928
Kristen Roberts
Comcast
(860) 505-2075
# # #