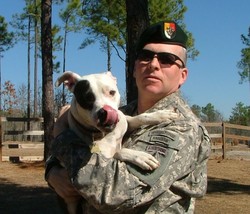 This knee-jerk reaction is similar to BDL (breed-discriminatory legislation), which targets the wrong end of the leash. Our armed forces should target reckless owners, not a particular breed of dog
Kanab, Utah (Vocus) March 16, 2009
An animal welfare organization is calling on the U.S. military to reverse a wholesale ban on certain breeds of dogs which is tearing apart families and their dogs at bases across the country.
Best Friends Animal Society is adamantly opposed to wholesale profiling of any breed of dog and is urging Americans to get involved.
"This knee-jerk reaction is similar to BDL (breed-discriminatory legislation), which targets the wrong end of the leash. Our armed forces should target reckless owners, not a particular breed of dog," said Best Friends attorney Ledy VanKavage.
The Pentagon submitted a memorandum Jan. 5, 2009, stating that certain breeds are not allowed in Army housing. The Air Force also has enacted a breed-discriminatory policy and the Navy is expected to do the same.
The memorandum states families ''may not board in privatized housing any dog of a breed (including a mixed-breed dog) that is deemed an aggressive or potentially aggressive.'' The memorandum defines ''aggressive or potentially aggressive breeds of dogs,'' as pit bulls (American Staffordshire bull terriers or English Staffordshire bull terriers), Rottweilers, Doberman pinschers, chows, and wolf hybrids.
"Behind that cold language are stories of our heroes and their families being separated from their dogs," VanKavage said.
Lynn Lynde, a volunteer with Pit Bull Rescue Central, is married to a highly decorated war veteran who is currently serving in the U.S. Army. They are the proud owners of three American pit bull terriers.
Soldiers contact Lynde daily, appalled that they cannot bring along their best friend, sometimes the only thing they have left. She also knows of soldiers who are getting out of the military because of the ruling. "They are completely mortified that their country wants to repay them for their sacrifices by killing their dogs," Lynde said.
Best Friends offers suggestions for Americans who want to get involved on behalf of dogs who deserve better from their country.
"President Obama should rescind the January 5, 2009 memorandum to support all members of our military families - two legged and four legged - and to honor the memory of Stubby, an American Pit Bull Terrier who earned the Purple Heart," VanKavage said. Stubby was the ''Brave Solider Dog of The 102nd Infantry'' during World War I and his body is on display at the Smithsonian in Washington, D.C.
WHAT THE PUBLIC CAN DO TO HELP:
The public is encouraged to write a letter to President Obama, as well as members of the House Armed Services Committee and Army officials. Contact the President here or send an e-mail to comments(at)whitehouse.gov and put the appropriate name in the subject line. Contact members of the Armed Services Committee here. To contact the Army, e-mail Ms. Joyce VanSlyke at joyce.vanslyke(at)us.army.mil.
Please keep comments polite, professional and educational, and encourage alternatives such as the following:

Consider mandatory microchipping. Fine those who abandon their dogs.
Encourage a law prohibiting dogs from being alone in a yard without supervision, until permanently anchored fencing is allowed on military-based housing.
Enforce mandatory spay/neuter programs for all pets on military-based housing.
Enact higher fines for those who breed dogs on military bases.
Join the Stop Breed Specific Legislation Community on the Best Friends Network.
Teach the community, particularly children, about responsible dog ownership and care. Offer humane educators as speakers.
For more information:
Memorandum on Pet Policy for Privatized Housing Under the Army's Residential Communities Initiative
CONTACTS:
Barbara Williamson (435) 689-0200 (cell) or barbara(at)bestfriends.org
John Polis (435) 644-2001, ext. 4858 or johnp(at)bestfriends.org
About Best Friends Animal Society:
Celebrating its 25th anniversary in 2009, Best Friends Animal Society advances nationwide animal welfare initiatives by working with shelter and rescue groups around the country. Best Friends Animal Sanctuary in southwestern Utah is the nation's largest facility for abused, abandoned and special needs companion animals. On any given day the sanctuary is home to approximately 1,700 dogs, cats, horses, rabbits, birds, and other animals. The society publishes Best Friends magazine, the nation's largest general interest, pet-related magazine with approximately 300,000 subscribers. For more information on Best Friends Animal Society, visit http://www.bestfriends.org/ .
###