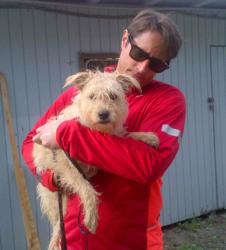 The group rescued 185 abandoned and homeless dogs from Liberty County, Georgia.
NEW YORK, (PRWEB) January 31, 2013
January 31, 2013– Animal Aid USA founders Prince Lorenzo Borghese of Royal Pet Club and Karen Talbot returned with a large following of Animal Aid USA volunteers and animal advocates from the organization's first animal rescue caravan of 2013, during which the group rescued 185 abandoned and homeless dogs from Liberty County, Georgia.
The New Year's Caravan, the first of twelve caravans Animal Aid USA members will conduct in 2013, is a trek which is repeated every 30 days by volunteers who travel 1,600 miles roundtrip from New Jersey to Liberty County, Georgia to rescue shelter animals in rural Georgia communities. Most of the 185 dogs rescued from animal control facilities during the New Year's caravan had been brought to Animal Aid USA's Miracle Ranch in Long County for care and treatment before forever homes would be found for each of them.
The Miracle Ranch is a temporary transfer station and quarantine facility made possible by donations from California-based rescue Dogs on Death Row.
The New Year Caravan's arrival to Miracle Ranch was marked with celebration, as Borghese, Talbot, and other Animal Aid USA volunteers got to meet Asher, a gravely wounded dog rescued on December 18 in Ware County, Georgia after local resident Jane Keeler found him abandoned and wandering the streets. After unsuccessful attempts to rescue the dog herself, Keeler contacted Talbot for help; from her home in New Jersey, Talbot contacted partners in Waycross, Georgia for assistance.
It was Talbot who named Asher, which in Hebrew translates to "happiness and extreme desire to be surrounded by family or community."
Currently under the foster care of Animal Aid USA volunteer Georgia Pontikakis, Asher's neck wound is receiving follow-up care from Kyle Christiansen, DVM and the Cedar Animal Hospital staff who saved the dog when he was brought in from the street on December 18. Asher has a loving forever home waiting for him with Borghese's sister, Ilaria.
Steve Dash of the Humane Society of Atlantic County in Atlantic City, New Jersey, an Advisory Board member for Animal Aid USA, also traveled with the New Year Caravan, joining a throng of volunteers who came together to meet Asher at Miracle Ranch.
To celebrate the New Year and Animal Aid's one year anniversary, Animal Aid USA will be hosting its first fundraising event on February 5th at the Thom Bar in New York City. Hosts of the event include Borghese, Talbot, Georgina Bloomberg, Stephen Baldwin, Lara Yunaska and Travis London. For ticket information go to http://www.AnimalAidUSA.org.
About Animal Aid USA:
Co-founded by Prince Lorenzo Borghese and Karen Talbot (M.O.M.S. Rescue Founder) in January 2012, Animal Aid USA is comprised of a group of volunteer animal lovers who drive more than 1,600 miles each month in order to relocate animals from high-kill shelters to receiving rescues and homes. In addition to finding homes for animals facing an uncertain future, Animal Aid USA raises money to fund spay and neuter programs in low income communities, and raise awareness of the legal cruelties happening daily in the U.S., including gas chamber euthanasia. In July 2012, Animal Aid USA raised awareness of the cruelty of gas chamber euthanasia through the Amazing Grace Caravan. This caravan also saved 184 shelter dogs. To date, Animal Aid USA volunteers have rescued more than 3,100 abandoned and homeless dogs.
Borghese combines his animal advocacy commitments with his Royal Treatment products which are available on the Royal Pet Club website. He utilizes his on-air appearances to raise awareness for animal rights causes. Royal Pet Club donates five percent of its profits, plus $2 for every new customer to Animal Aid USA to fund free spay and neuter programs in low income areas. Pictures of altered dogs are then posted on Royal Pet Club's Royal Fix Club page.
To learn more about Animal Aid USA, visit http://www.AnimalAidUSA.org. To learn more about Royal Treatment, visit http://www.RoyalPetClub.com. To learn more about Prince Lorenzo Borghese, click here.
###