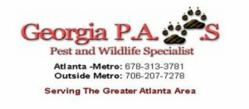 We are concerned about your nuisance wildlife problem and are proud to offer 24/7 service
Atlanta, GA (PRWEB) October 17, 2012
Georgia P.A.W.S is services the Atlanta metro area with wildlife removal services. The services include trapping, sealing out the animals, attic restoration and any general construction to ensure everything looks like new again.
Georgia P.A.W.S. has added raccoon, snake, bat and skunk removal services. The company now offers a full portfolio of animal control services. The services are dedicated to helping to rid any house from wildlife.
The trapping and animal removal services target the following animals:
Bats
Beavers
Flying Squirrels
Opossums
Raccoons
Rats
Skunks
Snakes
Squirrels
To contact the Georgia Paws please visit their website at http://www.georgia-paws.com .