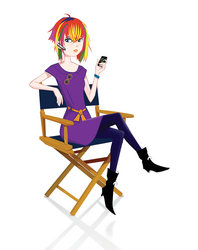 Toronto, Ontario, Canada (PRWEB) March 22, 2010
Animated Media Inc. (AMI) is pleased to announce the release of its VGK platform for mobile devices. AMI has optimized its flagship product for today's most popular mobile touch screen devices and has introduced new World Interface Modules (WIMs) to address the unique challenges of touch screens allowing Flash content to run on a wide range of screen display dimensions and with the ability to playback audio directly through the device's native APIs.
Special features and benefits of the VGK platform for mobile devices includes no re-authoring of existing Flash content allowing for quick implementation, the ability to use a virtual keyboard to send action commands to the Flash content, resizing animations "on the fly" for various mobile devices, and support for OpenGL ES 2.0 GPU hardware acceleration.
As an Apple iPhone Developer Program participant, AMI was mindful of that program's limitations on run-time elements in apps and so the ActionScript engine is not included for the Apple mobile platforms. We currently offer support for the iPhone, iPod touch and iPad. AMI is also working on supporting other mobile platforms, including Android-based smartphones. AMI's CEO, Chris Brady said "we have completed many months of review with the Apple and Flash communities and are quite happy to release a deterministic, stable product that meets the needs of both communities."
AMI will be exhibiting the power of the VGK platform next week at CTIA in Las Vegas in the Ontario-Canada pavilion, North Hall N1: #6711. Please stop by the booth to see our latest product and feature demos and acquaint yourself with Anni Mobi, our Mobile Platform Avatar.
About Animated Media Inc.
Animated Media Inc.(AMI) is based in Toronto, Ontario, Canada and provides solutions to help customers build intuitive, stunning visuals for multimedia applications. Our family of software products supports 2D/3D graphics, video, and audio applications using popular media and graphics formats such as Adobe Flash, SVG, and the Khronos Group's OpenGL, OpenGL ES and OpenVG APIs, and enables our customers to create dynamic, graphical user interfaces and animations for feature-rich applications.
Animated Media, AMI and the AMI logo are trademarks of Animated Media Inc. All product or service names are the property of their respective owners.
# # #