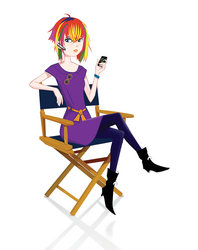 Toronto, Ontario, Canada (PRWEB) April 14, 2010
Animated Media Inc. (AMI) today announced that its VGK Platform for Apple Mobile Devices is compliant with the recent change in the iPhone Developer Program License Agreement. AMI's flagship product, the VGK platform, and our World Interface Modules(WIMs) act as a bridge between Flash content and the Apple devices, and does not use a virtual machine, interpreted code, or compiled scripting language. AMI's experienced application and system level developers architected the VGK platform in a unique way to solve ActionScript's inefficiency of execution speed and memory requirements by implementing the equivalent code in Apple's native Objective-C, C, C++, and OS APIs. By removing the ActionScript engine, the memory footprint is a fraction of what it was and the performance is dramatically improved. These factors result in an efficient native iPhone, iPod touch, or iPad application that runs faster and preserves battery life.
There are a large number of content owners that have existing Flash animations that play in a deterministic way and do not require user interaction. By using the VGK platform, these content owners can put their existing Flash content onto the iPhone, as it exists, and without the need to re-author using the new Adobe Creative Suite 5. No keyboard, no problem! The VGK platform includes virtual keyboard support to translate simple touch screen movement into the expected keystrokes to control an animation's simple operation. High performance graphics rendering is accomplished by using the OpenGL ES 2.0 API.
Chris Brady, AMI's CEO says "when we first implemented the VGK platform on the iPhone in September 2009, and beta-tested it in the Toronto Flash developer community, there was a lot of discussion if apps created using the VGK platform would pass Apple's licensing requirements. AMI analyzed how Flash content was primarily used on mobile devices, recognized the enormous potential for displaying Flash animations on the iPhone, and designed our VGK platform to be able to do just that by using the native APIs."
About Animated Media Inc.:
Animated Media Inc. (AMI) is based in Toronto, Ontario, Canada and provides solutions to help customers build intuitive, stunning visuals for multimedia applications. Our family of software products supports 2D/3D graphics, video, and audio applications using popular media and graphics formats such as Adobe Flash, SVG, and the Khronos Group's OpenGL, OpenGL ES and OpenVG APIs, and enables our customers to create dynamic, graphical user interfaces and animations for feature-rich applications.
Animated Media, AMI and the AMI logo are trademarks of Animated Media Inc. All product or service names are the property of their respective owners.
###