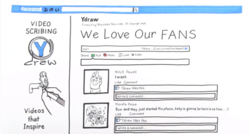 3 hours of video is uploaded per minute on YouTube from mobile devices
Saint George, UT (PRWEB) November 08, 2012
Animation Video Production Gets Amazing Results
Specializing in whiteboard animation, Ydraw is the number one video scribing company in the world. There are many factors that resulted in them getting there, and they know it is not enough to just produce compelling video, but these videos also have to be viewed to see results.
Recognizing the need for video SEO and other aspects of video marketing, Ydraw knows that to get amazing results, these processes must be put into play after the video is created so that it can be viewed by the largest audience possible. When search engine optimization is put into play with a video after it is published, it is guaranteed to get more traffic than a video that is not search engine optimized.
In this new article by Ydraw, they take you through numerous statistics on how many users are on YouTube, and hard it is to be able to get views if someone does not know how to market their video on YouTube correctly. One of the statistics states that "3 hours of video is uploaded per minute on YouTube from mobile devices", which means they are not even counting computer uploads. It is essential that every video knows how to market themselves after they have been published if they want to be seen on the internet.
Ydraw has services even after their animation video production that ensures videos are marketed correctly. It is not just the marketing that makes the video viral though, there has to be a high-quality, amazing video backing the marketing for it to become noticed by many viewers. Step one is to get an animation video production, and then go big.
Alecsy Christensen