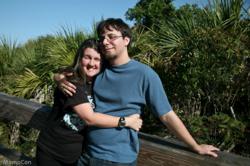 We love anime, we love video games, and we love working on MomoCon.
-Chris Stuckey
Atlanta, GA (PRWEB) February 25, 2013
Atlanta's family friendly Anime, Animation, and Gaming convention, MomoCon, returns to the Atlanta Hilton on March 8-10, 2013. The convention boasts internationally celebrated cosplayers, guests from the entertainment and animation world, continued growth in gaming, and an expanded emphasis on family friendly events. This year MomoCon is looking at tremendous growth as an organization, reflective of a proactive management style of Co-Chairs Jess Merriman and Chris Stuckey. The pair have been running MomoCon from the start, and brought this fan convention from humble beginnings to national respect in under ten years.
Taking the business of having fun very seriously, the pair realizes that growth requires maturity and have implemented a number of changes to make MomoCon 2013 a model festival. "We have a new leadership structure in place this year." Said Merriman, "We implemented a new process for working with major brands to be partners with us on huge endeavors. This has paid off, and we've recently announced that video game companies BioWare and Riot Games will be attending the 2013 event." Other changes include the first LAN event at MomoCon, an overhaul of the marketing and sponsorship materials, and a concentrated strategy on social media and media relations.
Along with other Georgia Tech Students, Jess Merriman launched MomoCon in 2005. They utilized the space of the Georgia Tech Student Center and were able to hold the event for free by selling vendor tables to cover expenses. Gaming was an early essential to MomoCon. Merriman said, "we wanted to have an event with more video gaming than was currently being offered at events in the area."
The MomoCon structure provides another evidence of the creative leadership of the couple. With Chris Stuckey as the Internal Co-Chair, and Jessica Merriman as the External Co-Chair, the two are supported by an organized and dedicated volunteer staff. Delegation and trust are important to any organization, and MomoCon distributes leadership to Senior Directors and Directors. "The Internal side of the organization has eighteen management level volunteers who handle convention operations," said Stuckey," and the External side has a broader base of twenty-one management level volunteers who have customer and vendor facing roles." Over three hundred volunteers round out the staff.
The convention chairs credit much of the success of MomoCon to being a home grown Atlanta event. "How has Atlanta contributed to MomoCon?" asked Stuckey, "Location, location, location. Atlanta is at the center of the southeast and a major metropolitan area with infrastructure. In Atlanta, we do not have to explain convention culture to the local community, which allows new conventions to grow quickly."
Merriman describes the growth of MomoCon as "colossal." With a first year attendance of 750, they have grown every year, except the year that they introduced a membership fee for admission. That membership fee allowed them to move off campus and into the Marriott Marquis. The other benefit of the fee was that it allowed for better planning and provided the convention with a firm budget. MomoCon expects over 10,000 attendees this year.
MomoCon is different from most anime conventions because because of the balanced approach of management. "We're not enormously broad like some multi-genre shows, which helps with focus," explained Merriman, "but we also aren't rooted in a singular fandom, which helps us be more agile."
As any business knows, it is critical to provide solid customer support to keep customers coming back. Jess Merriman puts it as the primary goal of MomoCon volunteers, "I can't think of anything MORE important in an event like this." The leadership provides extensive customer service training.
In the end though, this couple is driven by a shared passion. Chris Stuckey sums it up, "We love anime, we love video games, and we love working on MomoCon. I was given good advice years ago by one of my mentors: focus on a passion, and find a path to live by following that passion. Thankfully with MomoCon, we have found that path."
What: MomoCon Anime and Gaming Convention
When: March 8-10, 2013
Cost: Early Bird Online: $30; 3-Day at the door $40; Children Under 6 free
Where: Atlanta Hilton - 255 Courtland Street NE Atlanta, GA 30303
Main URL: MomoCon.com
MomoCon 2013 features celebrity guests from anime, animation, video games and costuming. Including animation writer, producer, and legend Mike Reiss (Simpsons, The Critic), anime voice actors Brina Palencia (Black Butler, Spice and Wolf, and Borderlands) and Steven Blum (X-men, Cowboy Be-Bop, Toonami,etc), and costuming legend Yaya Han (King of the Geek). Amber Nash and Lucky Yates of FX's Archer will also be returning.
MomoCon is one of the most visually interesting and engaging events in the entire country. Any press and media are encouraged to apply for a press pass to cover the event. Any interested groups should contact MomoCon at http://www.momocon.com/contact/
###