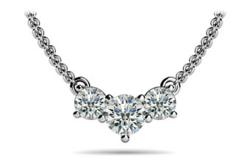 San Diego, CA (PRWEB) January 27, 2012
Valentine's Day is a popular time of year for both romantic gestures and gifts from the heart. Anjolee offered their top five gifts this year including diamond pendants and necklaces with simple, lovely designs. Each of these jewelry designs can be customized in white gold, yellow gold or platinum and choice of carat size and quality. Creating a unique item for Valentine's Day is simple when you consider these suggestions for top five jewelry gifts:
1) A three stone diamond pendant represents the past, present and future of love. Add a gemstone for extra personalization or choose the all-diamond version. The SP66 pendant series has a horizontal design, and is offered with one or two gemstones or all diamonds.
2) A diamond journey pendant necklace, has graduated diamond sizes from small to large. Representing a journey that is shared together or a milestone event, these necklaces are personal. A classic design looks great on anyone, so the 'Classic Diamond Journey Necklace' style SP23 is Anjolee's top pick. Plus, options include a smaller size .25 carat to a large size 1.00 carat, allowing for any budget to be met.
3) A designer diamond pendant such as the SP63-A, 'Surrounded by Sparkle Diamond Pendant', is full of sparkly diamonds and can coordinate well with other jewelry and any attire. This necklace is stunning in gold or platinum.
4) Heart jewelry is the most literal of gift ideas for Valentine's Day but also a very special item. The 'Double Diamond Heart Pendant', style OSA6, has two hearts dangling perfectly from the chain. A slanted design gives this a modern edge.
5) For those with extra budgets this year, consider an alternative to the diamond pendant – a riviera diamond necklace has graduated diamonds set all the way around the neckline. A little pricier than the other options, but a definite investment piece she'll get lots of wear and complements from! The '4 Prong Riviera Diamond Necklace', style N369-R is a bestselling item and combines a classic four prong setting with a luxurious diamond sparkle.
For more about the Anjolee's diamond necklaces, visit the website at http://www.anjolee.com.
# # #