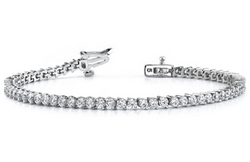 The benefits of buying through a manufacturer are tremendous. Anjolee is a major company offering their entire product catalog online, which equals hundreds of diamond tennis bracelets with more than 700 fine jewelry items total.
Chula Vista, CA (PRWEB) December 11, 2009
This holiday season, online jewelry retailer Anjolee offers hundreds of diamond tennis bracelet designs at manufacturer direct pricing. The savings amount could be tremendous. The ability to shop around for items online can save consumers thousands of dollars and time. Knowing this, many stores now have e-commerce websites in addition to having a physical location. This means an even broader audience can be reached as browsing through available products is now easier than ever. The ability to view pricing differences and complete a purchase online- all within a few simple steps, has become a great advantage to online merchants. The largest manufacturer of diamond tennis bracelets created a unique consumer website called Anjolee.com.
Previously selling strictly to the jewelry wholesale industry, Anjolee decided to open their doors to consumers in 2008. Offering the largest selection of diamond tennis bracelets and other diamond jewelry at manufacturer direct pricing, this company saves the average consumer up to 60% off what other retailers would sell similar items for. The ability to save money by customizing all jewelry items by any metal type, diamond quality, size and length are great benefits that are unique only to Anjolee. Since a tennis bracelet is a large purchase, being able to specify the exact specifications is an important part of a consumer's purchase decision. During a recessionary time in the US economy, bargain hunters and deal seekers rule the marketplace.
The benefits of buying through a manufacturer are outstanding. Anjolee offers their entire product catalog online, which equals hundreds of diamond tennis bracelets with more than 700 fine jewelry items total. Being an online retailer only, Anjolee addressed that customers prefer to inspect a piece of jewelry before purchasing, by launching an interactive website.
These interactive website features include the ability to see any jewelry item in yellow gold or white gold, rotate the picture for a complete view, zoom in to high resolution detail and click a button to hear audio commentary. Past customers rave about these innovative features as it solves the problem of not being able to see the jewelry in person.
When it comes to buying yourself or a loved one a diamond tennis bracelet, remember that style variations are numerous. A complete set of classic diamond tennis bracelets, vintage diamond tennis bracelets, gemstone tennis bracelets, bangle bracelets, red carpet glam tennis bracelets and more can be found online. With the click of a button, see what a favorite jewelry design will look like in either white or yellow gold or hear audio commentary on a jewelry piece. Imagine being sold on a design without ever having to step foot into a pushy retail sales environment! Now that's a great idea.
###