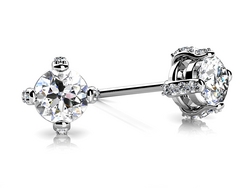 I haven't been this impressed with a company in a long time. Everything from your literature and letterhead, to your merchandise is quality and first class. Thank you very much for your excellent customer service representative
San Diego, CA (PRWEB) February 19, 2010
Users can expect to see the following changes in the way Anjolee.com looks and appears. A distinctive homepage design promotes an easier navigation of the entire site. The navigation menu is now expanded on the left panel of the website so consumers will be able to view the whole product offering without the redundancy of extra clicks. It's easier than ever to see exactly what is being sold i.e. – Customizable Diamond Jewelry in the following categories: Bracelets, Necklaces, Earrings, Pendants and Rings.
In addition to all jewelry categories being visible from every other page on the website, changes were made to the way each of the individual jewelry product pages is displayed. Each product page has been expanded to allow additional room to view the product details, specifications and to fulfill the customization process. The customization process of any product involves four components: (selecting the metal type, diamond carat weight, diamond quality and size or length).
Also, a flawless new checkout page clearly summarizes what products have been added to the shopping cart. The checkout page has two distinct sections; one for entering the billing and shipping information and another for entering the payment information including a coupon code if present. Once all of the fields have been successfully entered, customers click the "Place Order" button and wait for the confirmation screen to appear, showing a receipt of the transaction.
Another service that recently changed is the inclusion of Free Shipping on ALL orders, regardless of the order value. Overnight shipping and insurance costs add up, and this benefit was extended in February 2010 as an added bonus for all shoppers. Previously, this was not an option as the company decided not to hide the cost of shipping and insurance in with the total of the order. Many competitors simply adjust the cost of the item in an effort to appear as if they are giving away shipping for free. In reality, the cost of shipping is still being paid by the consumer in most cases (they just don't know it).
A "bookmark this page" feature was added to the top banner of the website, so that consumers can easily bookmark a page of the site to get back to at any time.
With brand new designs being added all the time, the product offering on the website is continually growing. Another addition is a brand new section of the website called the "Best Sellers", section which represents the top selling items from the diamond bracelet category as well as necklaces, pendants, earrings and bridal rings.
What has not changed one bit is the level of communication and personal attention Anjolee's professional team gives to each and every customer. Whether it is through the chat support feature, a live phone call or email follow-up, Anjolee's team members work diligently to ensure every customer is 100% Satisfied.
The reputation for having excellent customer service is best heard from an Anjolee customer who said, "I haven't been this impressed with a company in a long time. Everything from your literature and letterhead, to your merchandise is quality and first class. Thank you very much for your excellent customer service representative". To read more actual testimonials, Click Here.
A piece of diamond jewelry is a year round gift that can be a given for any special occasion such as a birthday, mother's day, anniversary, Valentine's Day or Christmas. When it is the perfect time to buy a pair of brand new earrings or a tennis bracelet, searching online is the best option. Comparing metal weights, diamond qualities and of course price is easily managed through online comparison shopping. Many of the top companies offer discounts or coupon codes to those who sign up for their newsletter. For a special discount code good for additional savings on all Diamond Jewelry, use Coupon Code: PRW1 on Anjolee.com today.
About Anjolee: Anjolee.com is an online retailer allowing you to essentially name your own price by customizing all diamond bracelets, earrings, necklaces and rings by metal type, diamond quality, size and length. To see the whole collection of diamond jewelry that Anjolee.com has to offer go to http://www.anjolee.com.
###