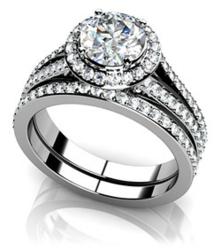 San Diego, CA (PRWEB) November 17, 2011
Anjolee announced some new items in their wedding and bridal. A large selection of modern, romantic, classic, vintage and glamorous bridal ring styles are offered in choice of metal type, diamond quality, and size. The recent addition of the MS137 diamond bridal set series offers modern bridal choices. Within the series, there are two wedding sets and the option to buy an individual engagement ring. These styles combine impeccable quality with a romantic appeal because of the unique split shank design of the engagement ring.
The first new style called the 'Elegant Split Shank Diamond Bridal Set' Style No.: MS137 is a new diamond bridal set with plenty of romantic appeal. A striking round center stone is secured with a four prong setting. In addition, sparkling accent diamonds are set along the split shank and give it a more distinctive look. There are five sizes to choose from ranging from 1.13 to 2.17 carats. The number of diamonds will vary from 85-90 depending on the selection for total carat weight.
The second new design in this series is the engagement ring. Style MS137-A, called the 'Elegant Split Shank Diamond Engagement Ring' is available in different sizes ranging from 0.94 - 1.98 carats. This fashionable diamond engagement ring truly highlights the beautiful center diamond with its exceptional design. A prong setting holds each round diamond secure. Diamonds are lined along the split shank and top, where they continue around the center stone. There are five sizes to choose from ranging from .94 to 1.98 carats. The diamond count will vary from 61-66 diamonds depending on your selection for total carat weight.
The third new design one of the new double band bridal sets offered by Anjolee. This type of design features an engagement ring flanked by two diamond bands on either side. The MS137-D is the 'Dazzling Trio Matching Diamond Bridal Set'. It is available in sizes ranging from 1.32 to 2.35 total diamond carat weights. This wedding set is becoming more popular because of the double band design. The engagement ring has an elegant split shank design leading up to the ring head, which holds the stunning round center diamond. All of these options are available now, exclusively on Anjolee's website.
###