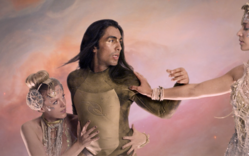 Beethoven is a big hit on MTV
New York, NY (PRWEB) January 19, 2012
Independent recording artist Ankit Love catapults to the top of the MTV Hive top 100 chart for the most watched music video of the week with his self-directed science fiction musical short film "Beethoven Burst" starring Latvian actress Egija Zviedre.
At the climax of it's ascent with the video nestled at number two spot it was retweeted by respected Slate magazine and MSNBC journalist Dave Weigel to his 48,000 twitter followers. Moments later the former editor of Editor & Publisher and Goldsmith book prize-winning author Greg Mitchell tweeted, "that name-checks my man Beethoven is a big hit on MTV." Shortly after these tweets "Beethoven Burst" climbed to the number one spot on MTV.
By January 7, 2012 the video had shot up from thirty-two to the top of the MTV Hive chart in 48 hours in the process passing videos by Madonna, Usher, Britney Spears, and Beyonce. "Beethoven Burst" went on to hold the number one spot becoming the most watched music video for the week on MTV Hive.
The rise came on the back of numerous Facebook and Twitter posts spanning the globe from Los Angeles to Riga to Cape Town to Delhi to Tokyo by Love's friends and through his Facebook fan page which now numbers more than a 160,000 fans.
Ankit Love also received another honor rare for an independent artist by being featured on the VH1 Fresh New Music: January 2012 playlist alongside the likes of Lenny Karvitz, Gym Class Heroes, Pitbull, and Willow Smith.
While on YouTube the extended cut of "Beethoven Burst" has received over 55,000 views in three months.
The song itself samples Beethoven's 5th Symphony and juxtaposes science and spirituality. It is inspired by a real life cosmic event: the gamma ray burst GRB 991216 nicknamed the "Beethoven Burst" by Dr. Brad Schaefer as it was observed on the 229th anniversary of Ludwig van Beethoven's birth, December 16th, 1999. Even though the burst occurred 10 billion light years away from Earth it is one of the brightest bursts ever detected. One possible progenitor for this massive celestial event is thought to be the merger of two black holes, an idea that Love incorporates into the chorus of his song "…two black holes interwoven, Beethoven Burst."
"Beethoven Burst" is the lead single from Ankit Love's debut album "Forever" released Worldwide on iTunes at the end of last year.
Music critic Stuart Manson describes Love's album "Forever" as "a musical tour de force that melds funk, soul, rock, hip hop and others into a groundbreaking record that will stay with you long after you've turned it off. One of the albums of the year. Amazing." The full review can be read on ASR.
When asked about his feelings on getting to the top of the MTV chart, Ankit Love exclaims "It's a dream come true! I couldn't have done it without the support of the wonderful people who have always believed in me. I really hope Beethoven Burst will encourage all those who watch it to work it out and dance to this crazy little thing called infinity!"
# # #