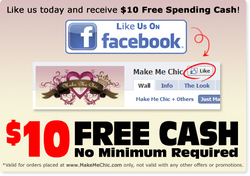 can't miss'' offer for trendsetters. Make Me Chic, is holding a great recession-busting promotion via their Facebook page. Fashionistas new to MakeMeChic.com simply have to hit the
Rowland Heights, CA (Vocus) October 27, 2010
Customers looking for a sweet fashion offer this month should make their way to MakeMeChic.com. The women's clothes and shoes retailer has a "can't miss'' offer for trendsetters. Make Me Chic, is holding a great recession-busting promotion via their Facebook page. Fashionistas new to MakeMeChic.com simply have to hit the "like" button, become a fan, and receive a promo code for $10 instant e-cash for Make Me Chic's online store. That's right, new members get $10 Free Spending Cash with any purchase when they "Like" Make Me Chic on Facebook! No purchase required, simply click on the "Like" button in Make Me Chic's Facebook profile for the secret promo code to appear! Enter the code during checkout and instantly receive $10 CASH credit on for an online order. The code is valid through November 7, 2010, 11:59 PST. This promotion is valid for new members only, and on orders placed through MakeMeChic.com. The code is not valid with any other offers or promotions. One time use only.
Get caught in the latest and greatest clothes and fashion accessories from MakeMeChic.com. Right now is a great time to invest in new pieces for winter. Turn heads in a warm and stylish long sleeve military jacket in vibrant red. Heat up the conservative office attire with a traffic-stopping piece like the sweater cardigan in leopard print from MakeMeChic.com's selection of women's sweaters. New clothes are always a necessity for winter, but ankle boots are vital to any woman's winter wardrobe. Pick up a new pair of round-toe women's riding boots in black; the boots are guaranteed to channel the inner cool girl in everyone.
At MakeMeChic.com style is always affordable. Become a Facebook fan and receive $10 to use toward any purchase online.
MakeMeChic.com is an online store specializing in fashionable women's clothing, footwear and accessories. The online retailer is a fashion frugalista's best friend. MakeMeChic.com is always affordable and always on top of stocking the most fashionable finds. Find unique dresses, ankle boots, sassy high heels, daring thigh high boots, or classic motorcycle boots, all in a variety of colors and made from quality materials.
For more information on new arrivals and special promotions go to at MakeMeChic.com, or find Make Me Chic at Facebook at Facebook.com/pages/Make-Me-Chic.
About Make Me Chic:
Since 2006 Make Me Chic has captivated fashion enthusiasts from all around the world with their unique appetite for up-to-date trends and women's clothing designs. Based in beautiful Southern California, they are stocked wall-to-wall with their extensive collection of women's shoes, dresses, swimwear, lingerie, adult costumes, handbags, and trendy accessories.
###