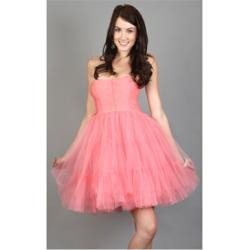 MakeMeChic is offering the latest trends in party dresses and ankle boots this Spring.
City of Industry, CA (Vocus/PRWEB) March 02, 2011
The one-stop shop for ankle boots and other fashionable finds, MakeMeChic.com, is gearing up to offer women with the latest styles of party dresses and evening wear. Party dresses from the premier ankle boots retailer are not exclusively for attending parties. The ultra-chic ensembles are also ideal for nights out at a club, celebrating a special night with a loved one, or gracing red carpet events.
For $29.15, customers can own the charming Mesh Draped 2Fer Dress finished with an elastic hem for an extra bubble look. For a classy fairy-tale princess look, MakeMeChic.com offers the Sweetheart Mesh Princess Dress, available in coral for $70.40. Featuring a strapless sweetheart tube dress with a gathered body on a fluffy mesh bottom, the Sweetheart Mess Princess Dress is also perfect for a sweet ballerina-inspired look.
Welcome spring and display a playful side with MakeMeChic.com's Sweetheart Mesh Flower Dress in Coral. For a price of $86.90, the Sweetheart Mesh Flower Dress embodies the ideal girly look with its strapless padded sweetheart tube dress embellished with embroidered mesh flowers patched across the entire body. The top is in a youthful yellow shade while the skirt displays a very feminine coral hue.
For a more elegant look, MakeMeChic.com proudly offers the Sweetheart Princess Dress in Taupe, a strapless padded sweetheart tube dress with a satin pleated highlight under the bust extended by a flow of double mesh bottom lined with wire for a ruffle finish, all for the price of $57.20. Shoppers on a budget can't afford to miss the Ruffle Strapless Pink Dress and Asymmetric Ruffle Mesh Dress in Ivory, available for only $30.80 and $29.70, respectively.
Pair party dresses with equally trendy ankle boots that are available in a variety of styles. As an online depot for fashionable women, MakeMeChic.com provides trendsetting wear and accessories ladies will adore. MakeMeChic.com's collection of ankle boots, maxi dresses, apparel, lingerie, costumes, fashion jewelry, and accessories are regularly updated with the latest styles. Join the company's mailing list or visit the ankle boots distributor's official blog for the latest tips and styles in the fashion industry.
About MakeMeChic.com
MakeMeChic.com is every woman's partner when it comes to fashionable finds. Based in the City of Industry, CA, MakeMeChic.com is an online store that specializes in trendy women's shoes and apparel. With over 50 latest styles arriving weekly, a woman will never be out of style.
###