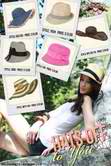 From top to bottom, Make Me Chic has it all. Complete the perfect summer look in just one stop.
City of Industry, CA (PRWEB) May 09, 2011
Leading online ankle boots retailer, Make Me Chic, is proud to unveil new items off its women's hat collection. The featured items include an array of summer hats and fedora hats. The new collection called "Hats Off To You" features the oversize straw summer hat with an adorable back straw bow and side trims as well as the straw stripe fedora hat with a beautiful stripe band around the top. Also on the new collection is the side bow cloche hat with an adorable side bow available in two colors. This month, Make Me Chic also showcases the side bow fedora hat which is available in three colors—brown, gray and camel. Finally, the oversize two tone flower hat—another great summer accessory—completes the collection. Visit the website now to view the complete hat catalogue, as well as other great fashion finds. Take advantage of the company's clearance items and enjoy discounts of up to 70%. All purchases worth $50 and above are entitled to free ground shipping. Simply key in the code SHIP50 upon check out.
Make Me Chic is a premiere online distributor of a wide array of women's footwear including ankle boots, platform heels, high-heeled pumps and Mary Janes, among others. The company also provides women's apparel such as dresses, outdoor wear, bottoms and skirts, swimsuits, lingerie and even costumes. Aside from hats, the company also distributes a wide range of fashion accessories such as jewelry, belts and headbands. Resellers and retailers in need of a reliable wholesale supplier of ankle boots, women's hats, women's apparel and other fashion items can also check out the website. Sign up for the mailing list now and be part of the exclusive Make Me Chic VIP Club.
From top to bottom, Make Me Chic has it all. Complete the perfect summer look in just one stop. Log on to MakeMeChic.com.
About Make Me Chic
Based in City of Industry, CA, Make Me Chic is an online manufacturer of ankle boots, women's apparel, women's shoes, lingerie, accessories, swimsuit as well as costumes.
###