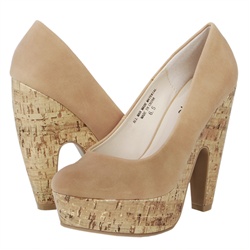 Chunky high heels is now the latest addition to MakeMeChic.com's vast collection of fashionable women's shoes.
City of Industry, CA (PRWEB) July 18, 2011
True to its promise of beautifying women from head to toe, ankle boots retailer MakeMeChic.com now gives fashionistas the latest trend to hit the shoe world. Chunky high heels, which are famous for giving classic Mary Jane shoes a twist, is now the latest addition to MakeMeChic.com's vast collection of fashionable women's shoes that includes ankle boots, platform pumps, Oxford flats, strappy sandals and many more.
Classic Mary Janes has become sexier with the advent of chunky high heels and MakeMeChic.com has just the perfect pairs for the preppy-type stylistas. Vintage and classic, the Reva83 Chunky Heels features low heels in round-toe Mary Janes embellished with four button straps over the vamp. Comfortable but equally fashionable, the Reva83 Chunky Heels is available in three colors – taupe, black, and gray.
Women who prefer the classic and elegant pumps will find chunky high heels a bit edgy with Make Me Chic's Privileged Willow Chunky Wood and Cajun01 Cork Half Wedge Heel Pumps. Privileged offers the Willow Chunky Wood Heel Pumps that are perfect for shopping sprees or night outs with friends. The sexy pair has soft leatherette upper with a round closed toe and finished with a girly bow on top. Meanwhile, Bumper prides itself in the Cajun01 Cork Half Wedge Heel Pumps that boasts a unique metallic cork platform base. The fashion-forward platform pumps are finished with 5.5-inch half heels and 1.5-inch platforms.
The sexiest pairs of chunky high heels come from Privileged and Wild Diva. Privileged gives women the chance to go retro with the Patty Ankle Strap Chunky Wood High Heels, which have 5.25-inch chunky wood block heels and finished with the classic ankle strap vamp and peep toe body. On the other hand, Wild Diva offers the Daffodil01 Leopard Strappy Chunky Heel Sandals. The pair, whose distinct feature is an exotic leopard pattern sole, has a slingback finish and an open-toe T-strap.
MakeMeChic.com not only carries the latest styles in women's shoes, but the online depot also boasts of other well-loved styles including ankle boots, wedge sandals, thong sandals, flats, and mid-calf boots, just to name a few. Additionally, Make Me Chic has a wide array of women's apparel that customers can browse through. Among the bestsellers are sexy adult Halloween costumes, lingerie, maxi dresses and swimsuits.
Join the company's mailing list or visit the ankle boots distributor's official blog for the latest tips and styles in the fashion industry.
About MakeMeChic.com
MakeMeChic.com is every woman's partner when it comes to fashionable finds. Based in the City of Industry, CA, MakeMeChic.com is an online store that specializes in trendy women's shoes and apparel. With over 50 latest styles arriving weekly, a woman will never be out of style.
###