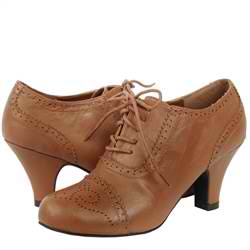 The leatherette oxford boots is Make Me Chic's latest addition to a selection of chic and sexy ankle boots.
City of Industry, CA (PRWEB) July 01, 2011
A leading online retailer of ankle boots and other fashion items for women, Make Me Chic, opens the month of July with a fresh batch of newly arrived items. The company shines the spotlight on its oxford ankle boots collection featuring the spectator oxford ankle boots in black and whiskey, the oxford high heeled ankle boots in gray and black, the oxford clog ankle boots in cognac, the hidden platform oxford ankle boots in tan, and the wing tip oxford ankle boots in blush and black. The leatherette oxford boots is Make Me Chic's latest addition to a selection of chic and sexy ankle boots. Check out the company's complete ankle boots collection at MakeMeChic.com.
Aside from oxford ankle boots, the company is also proud to showcase other new items such as fancy women's accessories. Customers looking for new ways to glam up can choose from items such as the colorful chain earrings, Moroccan tear drop earrings, long dangling leaf chain earrings, four tier chandelier earrings and fancy feather earrings. Shoe retailers and resellers in search of new items to add to their inventory can also check out Make Me Chic's new styles for evening and high heels. The company also updates its women's bag collection with new styles for shoulder bags and purse bags. Make Me Chic's newly arrived items are updated with new stock daily so customers are always on top of the latest fashion trends. All purchases worth $50 and above are entitled to free ground shipping. Simply use the coupon code SHIP50 upon checkout.
As a premiere one-stop shop for fashion items, Make Me Chic also offers a wide array of top quality, trendy and pocket-friendly catalogue of women's apparel from dresses, bottoms and skirts to outdoor wear and swimsuits. Make Me Chic also caters to resellers and retailers in search of a reliable wholesale supplier of ankle boots and other fashion items. Visit the company's website and check out the clearance sale section and enjoy discounts of up to 70% off on top quality fashion finds.
Be part of the Make Me Chic VIP Club by signing up for the mailing list to take advantage of the unique and exciting perks of a preferred client. Customers can also follow Make Me Chic through its fashion blog, Facebook and Twitter accounts.
Start the month in fashion. Stock up on the latest finds courtesy of MakeMeChic.com.
About Make Me Chic
Based in City of Industry, CA, Make Me Chic is an online manufacturer of ankle boots, women's apparel, women's shoes, lingerie, accessories, swimsuit as well as costumes.
###